Description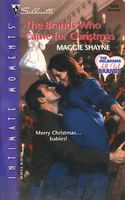 THE STRANGER SHE COULDN'T REFUSE...

Maya Brand was a virgin at the ripe old age of twenty-eight - until the night he came to town. But by morning her stranger was gone and Maya was pregnant - with twins!

Nearly nine months later, Caleb Montgomery mysteriously reappeared, ready to form a family. But Maya had questions that Caleb wasn't willing to answer...just yet. Like why he had left, where he had been...and who he really was. Still, Caleb was determined to prove his devotion to Maya and their babies - and promise he'd never walk away again.

The Oklahoma All-Girl Brands: Bold, beautiful -- and bound for the altar.
Full Synopsis