Description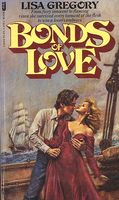 IMPRISONED BY DESIRE.... RESCUED BY ECSTASY.
It was an age of great rebellion, of a sweeping call to freedom, and a war that had to be. And no two people belonged to their age more than Katherine Devereaux and Captain Matthew Hampton -- the cool Union beauty and the dashing Confederate Captain who had the audacity to abduct her. From the wartime shipyards of Boston, to the locked cabin of a great clipper ship, to Liverpool and white slavery, and back to the cotillions of New York -- their stormy romance sweeps across a world at war and blazes

with the conflicts of an era!
Full Synopsis