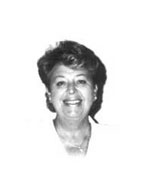 Mills & Boon author Lindsay Armstrong has written over 65 romance novels. She was born in South Africa where she worked for a travel agency and an airline. She met her husband when he was on his way home to New Zealand after working in West Africa. He returned in a matter of weeks and they were married six month later. The family eventually immigrated to Australia. She began writing after her youngest child entered school. She has been writing and publishing romances ever since.

She and her husband love to travel and have been back to visit Africa. One of the highlights of her travels was a sunrise hot-air balloon ride over the Serengeti plains.

Book List in Order:
74

titles
An Exception to His Rule

Never, ever, date the boss Mining millionaire Damien Wyatt lives by one rule: never more than one night. But when Harriet Livingstone appears across an interview table -- the same woman who totaled his sports car! -- he's tempted by her stunn...

---

The Return of Her Past

Once is a mistake, twice is a habit! Housekeeper's daughter Mia Gardiner knew her feelings for multimillionaire Carlos O'Connor were foolish. Until the day she caught the ruthless playboy's eye. Now Mia is older and wiser, but she has ...

---

When Only Diamonds Will Do

Society bride for the taking! The arrogant Theron dynasty have always looked down their noses at Reith Richardson - but now he's the one they need...He might have been raised on a rundown cattle station, but he's worked himself up to the top - the ha...

---

The Shy Socialite

The awakening of Miss Prim... Prim and proper socialite-turned-journalist Holly Harding is looking for her first big scoop. And what better topic than the infamous cattle king Brett Wyndham? But when Holly meets Brett she notices something inheren...

---

The Girl He Never Noticed

From invisible PA… Tycoon Cam Hillier requires a suitably attractive young lady to grace his arm at this season's fundraising party, but time is running out. So Cam must turn his attention to the woman right under his nose - his dowdy PA, Liz Mon...

---

The Socialite and the Cattle King

The awakening of Miss Prim...Prim and proper socialite-turned-journalist Holly Harding is looking for her first big scoop. And what better topic than the infamous cattle king Brett Wyndham? But when Holly meets Brett she notices something inherently ...

---

One Night Pregnancy

Headline news: Bridget's expecting! Rescued during a raging storm, sensible Bridget blushes scarlet when she finds herself seduced by a captivating stranger. How un-Bridget-like -- she's mortified! But little does she know her rescuer is u...

---

The Billionaire Boss's Innocent Bride

Alexandra Hill is worlds away from Max Goodwin's usual choice of glamorous employee. But this CEO needs a secretary--fast. He hires Alex, with one condition: a makeover! Soon she's turned from dowdy assistant to stunning beauty--and Max's...

---

The Cattle Baron's Virgin Wife

Ordinary girl... Sienna Torrance is used to helping people get back on their feet. But she's finding rugged billionaire Finn McLeod an impossible patient! Spending every day with him is confusing for Sienna--not least because of the searing attr...

---






---

From Waif To His Wife

The innocent bride... A mousy music teacher, Maisie's hardly a seductive siren. But her lack of worldliness turns her life upside down, and, abandoned and alone, she knows she has to confront the man who deceived her.... Rafael Sanderson is...

---

The Rich Man's Virgin

When passion leads to pregnancy...will it also bring marriage? She was a virgin and he got her pregnant. Now Australian millionaire Jack McKinnon wants to marry Maggie. Maggie isn't about to let her life be taken over, however good Jack mak...

---

The Australian's Housekeeper Bride

Perfect housekeeper... Rhiannon Fairfax believes everything should be calm and orderly. And she's made a career out of ensuring that other people's lives are perfect. Convenient wife... Then billionaire Lee Richardson hires her. Stormy, ...

---

At the Cattleman's Command

THE OUTBACK WEDDING... Rugged Australian Tom Hocking's reputation is legendary throughout the Outback -- as a breaker of horses and a wooer of women. So wedding planner Chas has made up her mind to keep out of his way while she organizes his s...

---

The Millionaire's Marriage Claim

Wanted: wife and mother... First he took her hostage, and then he asked her to marry him! Jo Lucas's captor is none other than Gavin Hastings IV, millionaire homestead owner, who's suffering from a case of mistaken identity. Somehow the ar...

---

A Bride for His Convenience

For convenience -- Or for real? Rob Leicester's wealth was matched by his arrogance. Initially Caiti found working for the millionaire Australian resort owner tough. But hostility turned to attraction and virginal Caiti gave Rob everything. Sh...

---

The Australian's Convenient Bride

Rough, handsome cattle-station owner Steve Kinane needs a temporary housekeeper -- and Chattie Winslow is perfect for the job. Chattie and Steve try hard to resist the intense sexual chemistry between them. Then Steve discovers the reason for Chat...

---

Wife in the Making

A wedding waiting to happen! Bryn Wallis chose Fleur as his new assistant because she insisted marriage was definitely not on her agenda! That suited Bryn perfectly. They'd be working very closely together in the tropical Australian resort he ...

---

The Constantin Marriage

Alex Constantin agreed to a marriage of convenience to Tatiana Beaufort because this inexperienced young woman intrigued him. But on their wedding night she asked for a year's grace before making theirs a "real" marriage -- insisting on s...

---

The Unconventional Bride

The not entirely convenient bride! Melissa Ethridge agreed to a marriage of convenience with Etienne Hurst to keep her family property from being sold. But what about giving up her freedom? Mel decides to be an unconventional bride and retain h...

---






---

The Hired Fiancee

The engagement assignment! Vivian badly wanted to win an advertising account with Lleyton Dexter's company -- but enough to spend a week with him? Lleyton clearly considered it a fair exchange. He needed a fiancee to deter matchmaking relative...

---

His Convenient Proposal

The sexual tension between Ellie and wealthy Australian Brett Spencer is overwhelming, but Ellie is dismayed when he proposes a marriage of convenience. How can she marry a man she is so sure could never love her? At first Ellie refuses to put her...

---

The Bridegroom's Dilemma

He wants her to be his wife! Nick Hunter had proposed to Skye Belmont believing her to be an independent career woman. When Skye admitted, three weeks before the wedding, that she longed for children, Nick was shocked! Faced with his reaction, Sky...

---

Marriage on Command

Lee admired hotshot Australian tycoon Damien Moore -- he was a brilliant lawyer, as well as drop-dead gorgeous. But she was stunned when a legal loophole forced her to marry him! Damien assured Lee it would be temporary and in name only. But there wa...

---

By Marriage Divided

The heiress bride and her rough, tough husband... Angus Keir, a self-made millionaire, considers Domenica to be a social butterfly. Her privileged background is in direct contrast to his own. But their fortunes are reversed when he saves her famil...

---

A Careful Wife

Marriage merger! Honor was convinced Ryan Bailey was looking for a "careful," suitable wife. She was equally certain he'd never consider her an ideal candidate! And she was glad. Getting involved with Ryan would be a bad idea. For one ...

---

A Question of Marriage

The only solution to blackmail -- was marriage! Aurora poured her most intimate secrets into her diaries, so she was horrified that, by accident, Luke Kirwan now had them! He'd only return them on condition that Aurora agreed to date him.... ...

---

The Unexpected Husband

An outback marriage? Lydia had been thrilled by her temporary assignment on an Australian cattle station-- until she came face-to-face with Joe Jordan on her first day! Tough, sexy Joe: the man Lydia's impulsive sister had planned to seduce......

---

Outback Mistress

He wanted her on his terms! Olivia was shocked to find a gorgeous stranger unconscious on her property - especially as he'd lost his memory and only knew his name was Benedict! Equally disturbing was the powerful chemistry between Olivia and h...

---

In Bed with a Stranger

The night before... The handsome stranger looked down on his luck. He'd arrived on Louise's doorstep looking distinctly disheveled and downright disreputable, claiming her brother Neil had invited him to stay. Yet something didn't quit...

---






---

Marriage Ultimatum

Marriage or nothing! Neve was used to difficult assignments, but interviewing millionaire Rob Stowe was her toughest yet! Her first challenge was Rob's obvious dislike of talking about himself. Her second was far worse: Rob was incredibly good...

---

Having His Babies

The baby surprise! Clare was an independent career woman -- and then her life was turned upside down! Her relationship with Lachlan Hewitt had started out as a business affair, but their passion had resulted in pregnancy. Lachlan immediately in...

---

He's My Husband!

Marriage in jeopardy Nicola was married to Brett Harcourt--but only just! She had some strong competition--his first wife wanted a reconciliation, and his new female colleague had designs on him, too. Nicola had the law on her side, but did she...

---

Wildcat Wife

The Australians: He's big, he's brash, he's brazen... he's Australian! Sultry, sensual and ruthless... SAFFRON SHAW, a successful designer in Queensland, was able to pick and choose her clients, and she thought nothing of turn...

---

A Marrying Man?

Georgia on his mind. Georgia Newnham was astonished! She didn't know whether to call in blackmail, kidnapping or coercion, but, whatever it was, she found herself agreeing to go to Sydney with journalist William Brady. The journey was certainly e...

---

All the Trimmings

in Christmas Treats

To a relationship in which Brendan has always treated Merryn like a kid sister, add a Christmas celebration the two are forced to share. Garnish with all the trimmings!...

---

Accidental Nanny

Outback Cattle Station - Father and Daughter in Need of Love How could Chessie prove to Raefe Stevenson that she wasn't spoiled? The handsome Outback cattle rancher needed a nanny for his small daughter, Jess, and suddenly Chessie saw her cha...

---

Playboy Lover

Rory Jones was dazzling. Handsome, charismatic and a man of immense charm and glamour. Dominique Lindwall was gorgeous and successful -- in everything but love. She just always seemed to fall for Mr. Wrong. When Rory and Dominique met at a pa...

---

When Enemies Marry...

In bed with her enemy! Justin Waite made it plain that Lucy could lose everything if she didn't marry him--so she agreed to tie the knot. Justin had claimed he only wanted a marriage of convenience, but soon it became clear he actually wanted ...

---

Married for Real

First comes marriage...then comes love Arizona Adams: reluctant bride Arizona needed financial help; she didn't need a husband. Then she discovered that the man demanding she become his bride had been secretly funding her for months.... Dec...

---






---

Dangerous Deceiver

"Things were never destined to be anything but explosive between us..." Simon made no secret of the fact that he was still attracted to Martha--even if he did think she was no lady! But Martha knew he was only amusing himself with her. He&...

---

Trial by Marriage

Reform of the rake... ? Sarah Sutherland: Twenty-six years of age, wears horn-rimmed spectacles and works as a schoolteacher: "I suppose you could say I fit everyone's picture of a typical spinster. I wish, though, that the fact I've t...

---

A Masterful Man

"Mr. Irresistible... !" Steve Warwick makes it clear to Davina from their first meeting that he wants her in his bed! Davina has other ideas .... The last thing she needs right now is a tough, masterful man who thinks he can organize her l...

---

An Unsuitable Wife

Sidonie was a novice when it came to matters of the heart. Perhaps it was inevitable that when she met Mike Brennan she was immediately bowled over by his irresistible charm. Mike soon made it clear though that he wasn't interested in romance,...

---

A Difficult Man

The personal touch Redesigning the interior of Gareth Walker's country house was Juanita's first opportunity to stake her independence in a world that had been so difficult to enter. She had no designs on the man himself--though she was un...

---

Unwilling Mistress

After hours Briony couldn't disagree with Grant Goodman--they did work well together. They parted ways on the idea that it stood to reason they should therefore play together. As the new owner of the scenic resort Briony managed, Grant was ...

---

The Seduction Stakes

Objection! True to her profession, Jane Mathieson argued that a few days' rest--even for an ambitious lawyer approaching burnout--was unnecessary...mainly because sharing a house, albeit temporarily, with Liam Benedict was no way to relax. ...

---

An Unusual Affair

FAIR GAME Rachel wondered if months of living among primitive tribes had left her somewhat unbalanced. Or was it just Mel Carlisle's sheer arrogance -- and devastating attractiveness -- that prompted her to assume this charade? Mel had mist...

---

Dark Captor

Quarterly dividends Stephanie's marriage to Dominic Rayburn is pure business--a deal to keep her brother out of jail and fulfill the conditions of Dominic's inheritance. Here, business and pleasure don't mix. Her husband, however, isn&...

---

A Dangerous Lover

He was either a saint or a brigadier general! Anyone who expected to exert any control over unconventional advertising genius Brad Morris had another think coming. Only Verity, a colleague, was able to handle the attractive Australian with a measu...

---






---

Leave Love Alone

Philippa mistrusted the male sex--with reason And nothing Mark Learmonth could say would make any difference. In fact, he was just the kind of arrogant, womanizing man she despised. It was a pity she had to work with him, even temporarily. With...

---

The Director's Wife

"Why did you marry me?" Cathy's voice was accusing. "You shut me out of every part of your life except your bed and your home. You don't share any of your dreams with me." When she married glamorous film director Tom Wes...

---

A Love Affair

She was free at last to do what she wanted Family pressures had forced Ashley at nineteen to give up the man she loved. Now, six years later, she wanted to put the family farm back on its feet. She hadn't counted, though, on Ross Reid, now...

---

One More Night

Disturbed, angry, and at odds That just about summed up her reaction to Rick Emerson, Evonne thought bitterly. Ever since she'd first laid eyes on him. When she agreed to do her employer a favor, she'd expected to be helping a young, u...

---

The Marrying Game

Kirra Munro couldn't believe her ears Australian entrepreneur Matt Remington had just informed her that he agreed to save her parents' corporation from bankruptcy -- but only if she married him! Never mind that she was already engaged to a...

---

Heat of the Moment

She was truly out of her depth! Perhaps Serena had rushed into accepting work in a nightclub just shy of respectable. But she'd been desperate. And wasn't her new job as governess at an isolated grazing station more dangerous still? The...

---

When You Leave Me

She was not in the entertainment business! Two weeks on Australia's Great Keppel Island as paid companion to ten-year-old Simon Matthews afforded Nyree a timely escape from a misguided love affair. Roaming the glorious untouched beaches in ...

---

Reluctant Wife

"We made a bargain," Adam reminded her Roz knew that Adam had married her without loving her. He needed a poised and beautiful hostess--but her need was even greater. A fire had killed her beloved grandfather and destroyed her home, leavin...

---

When the Night Grows Cold

His timing was almost perfect Kate Wiley hated to admit it, but singlehandedly managing the large Australian ranch was too much for her. That's when Grevil Robertson appeared on her doorstep with his offer of help. Kate soon learned his int...

---

The Shadow of Moonlight

Her marriage was sudden, short and secret When she was swept off her feet at nineteen, even her husband's wealthy family didn't know about Meredith Sommerville's marriage to their son. But after Leigh's death his family had warmly ...

---






---

The Heart of the Matter

Could she stir passion where once she stirred pity? For the intensely shy Clarry Kingston, life would have been unbeatable without her very special friend, Robert Randall. In every crisis he had been there to run to. Even when they married, it ...

---

Standing on the Outside

She didn't expect a happy ending ... Tallitha Jones practically trembled when she heard she was being sent to replace Miles Gilmour's secretary. The Brisbane businessman's unpredictable temper was well-known. But after her initial c...

---

Surrender, My Heart

India found love in the arms of an enemy Giles Ballantyne, heir to Ballantyne Enterprises, had treated India with contempt since the day she'd married his father. A fortune huntress, he called her, and worse. Suddenly, a year after her husb...

---

An Elusive Mistress

Not that I care! she tried to tell herself At nineteen, Hillary had been a little girl trying to keep up with a husband light years ahead of her. When the marriage ended, she built a wall around the memory of Clive Eastman. Six years later, Hil...

---

Some Say Love

Hannah wasn't sure of herself--or of Alex Alex Cameron rescued Hannah for the first time before she realized he was the very man she'd come to Surfers Paradise to look up. Rescuing her became a necessary habit. The trouble was that Hann...

---

Love Me Not

"So, what am I going to do?" It was a question Leonie couldn't quite answer. But suddenly, she knew she couldn't go through with her plans of revenge against Guy Richardson. She'd been going to try to make him fall in love w...

---

Finding Out

Would they ever have a happy anniversary? David Marchmont had forced the beautiful Lineesa Creighton, Australia's top model, to marry him a year ago--as restitution for the death of his younger brother. Lineesa had suffered her own guilt ov...

---

Saved from Sin

She'd rushed into marriage Clay Forrester had swept his starry-eyed Australian bride off her feet. He'd made her feel special--witty and rather daring--a person who existed only for him, when all along she'd existed only as his instrum...

---

Save My Soul from Sin

She'd rushed into marriage. Clay Forrester had swept Melissa, his starry-eyed Australian bride off her feet. He'd made her feel special--witty and rather daring--a person who existed only for him, when all along she'd existed only as his ...

---

Don't Call It Love

Anna wanted love, not just its trappings Anna Horton was a sane, down-to-earth kind of person and not normally given to wild excesses. Then she became governess to Richard Gillespie's little daughter, Chrissy, at their Yandilla home off the co...

---






---

Perhaps Love

She would never be immune to him Just when she thought she'd recovered from an adolescent crush on the handsome journalist Heath Townsend, Sasha found herself under his spell again. He was one of the most eligible bachelors in Australia, an...

---

Enter My Jungle

It was all too clear what he thought of her Nick Barrett had stated his low opinion of Miranda so loudly she had overheard him even in a noisy courtroom But instead of being put off by the handsome young lawyer, she was hopelessly attracted to ...

---

Melt a Frozen Heart

She had hoped never to see him again... Steven Harrow had known he was the object of her schoolgirl crush. He had also been the witness to her humiliation. But five years had passed and Morgan had developed confidence and a protective instinct ...

---

My Dear Innocent

She just wished she could hate him Camira had grudgingly come to accept her new circumstances -- strangers living in her family's Queensland home and working the horse-training stables. She could even accept Marc Riley as Camira Lodge's...

---

Spitfire

How could she bear to stay with him? Bobbie hadn't even really got over her parents' death and already she had to face losing Greentree Farm. When Rod Simpson offered not only to buy the farm but also to let her stay on, Bobbie wasn'...

---
Complete Series List in Order
Related
1) Finding Out (Apr-1986)
2) The Heart of the Matter (Dec-1987)
3) One More Night (Sep-1990)
Multi-Author Series List
2000 Launch
Marriage Ultimatum
(Jan-2000)
Amnesia
Outback Mistress
(Aug-2000)
The Australians
His Convenient Proposal
(May-2003)
The Unconventional Bride
(Nov-2003)
The Australian's Convenient Bride
(Oct-2004)
3)
Playboy Lover
(Sep-1998)
10)
Wildcat Wife
(Apr-1999)
16)
A Question of Marriage
(Oct-2001)
Expecting!
10)
Having His Babies
(Oct-1999)
37)
The Rich Man's Virgin
(Aug-2007)
High Society Affairs
The Shy Socialite
(Jul-2011)
Hired: For the Boss's Pleasure
The Billionaire Boss's Innocent Bride
(Feb-2009)
An Innocent In His Bed
The Cattle Baron's Virgin Wife
(Sep-2008)
Innocent Mistress, Virgin Bride
5)
From Waif To His Wife
(Mar-2008)
The Millionaire Affair
4)
The Millionaire's Marriage Claim
(Jul-2005)
Nanny Wanted
10)
Accidental Nanny
(Oct-1998)
Unexpected Babies
One Night Pregnancy
(Sep-2010)
Wedlocked!
12)
Marriage on Command
(Oct-2002)
21)
The Constantin Marriage
(Mar-2004)
44)
The Australian's Housekeeper Bride
(May-2007)
A Year Down Under
A Dangerous Lover
(Apr-1993)