Description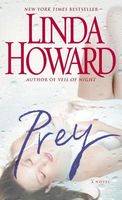 In this captivating novel of romantic suspense, New York Times bestselling author Linda Howard brings us deep into the wild, where a smart and sexy outdoor guide and her ruggedly handsome competitor must join forces to survive -- and avoid becoming what they never expected to be:

Thirty-two-year-old Angie Powell has always spoken her mind, but in the presence of Dare Callahan she nurses a simmering rage. After all, why give Dare the satisfaction of knowing he can push her buttons and push her to the edge?

Three years ago, Dare returned home to rural western Montana and opened a hunting business to rival Angie's. Complicating matters is the fact that Dare has asked Angie out (not once but twice) and has given her a gift of butterflies in the process. Angie has no patience for butterflies. They only lead to foolish decisions. And now the infuriatingly handsome Iraq war vet has siphoned away Angie's livelihood, forcing her to close up shop.

Before Angie is to leave town, she organizes one last trip into the wilderness with a client and his guest, who wants to bag a black bear. But the adrenaline-fueled adventure turns deadly when Angie witnesses a cold-blooded murder and finds herself on the wrong side of a loaded gun. Before the killer can tie up this attractive loose end, a bear comes crashing through the woods -- changing the dark game completely.

Luckily, Dare is camping nearby and hears the shots. Forced together for their very survival, Angie and Dare must confront hard feelings, a blinding storm, and a growing attraction -- while being stalked by a desperate killer and a ferocious five-hundred-pound beast. And neither will stop until they reach their prey.
Full Synopsis
About the Book
Published:

Sep-2011

(Hardcover)

Apr-2012

(Paperback)

Formats:

Print / eBook / Audio

Pages:

409

Purchase:
What Readers Are Saying
What do you think? Write your own comment on this book!
Write a Comment
Had doubts from mixed reviews, but absolutely loved the entire book from start to finish. Suspense and non stop ACTION THRU OUT. Parts where they hid were suspenseful and well written as to enjoy what it might be like to be so helpless and make the best out of it. One of the better survival stories I have read in a long time.