Description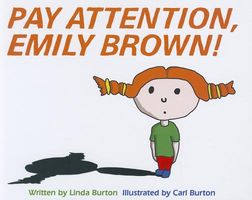 If you're the parent of a child with attention issues--ADHD, autism spectrum disorder, Down syndrome, or sensory processing disorder--then you'll want to share Pay Attention, Emily Brown! with your child. This fun picture book pairs whimsical illustrations with a mother's poetic pleas as she tries, in vain, to get the attention of her child.
Kids age 4-8 will gladly tune in to this book to enjoy Emily Brown's flights of fancy and the lengths to which her mother goes to get Emily to focus. Wonderful word pictures, from silly to absurd, hold readers' attention, and eye-catching artwork captures each entertaining moment.
Just think, Emmy Brown, for a moment or two...
Suppose that I told you my toes had turned blue?
Suppose that I started to fly overhead?
Or spread candy and presents all over your bed?
If I hung upside down by an arm and a knee
do you think, Emmy Brown, you would listen to me?
Pay Attention, Emily Brown! celebrates the imagination of all children, but especially those whose minds seem to wander a bit more than others, and offers a reminder that humor is both a sanity-saver and relationship-soother.
Full Synopsis
About the Book
Published:

Formats:

Print

Pages:

32

Age Level:

04-07

Purchase: