Description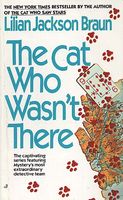 Qwill's on his way to Scotland--and on his way to solving another purr-plexing mystery. But this time Kokds nowhere near the scene of the crime. He and Yum Yum are back in Pickax being coddled by a catsitter...but Koko wont sit still once Qwill's traveling party returnsminus one member. He's behaving oddly, and Qwill knows what that means: Koko may have been miles away from the murder scene-but he's just a whisker away from cracking the case!

Qwilleran--a prizewinning reporter with a nose for crime. Koko--a Siamese cat with extraordinary

talents and a flair for mystery Yum Yum--a lovable Siamese adored by her two male companions. The most unlikely most unusual, most delightful team in detective fiction!
Full Synopsis
About the Book
Published:

Sep-1992

(Hardcover)

Jun-1993

(Paperback)

Formats:

Print / eBook / Audio

Pages:

288

Age Level:

18 & up

Purchase: