Description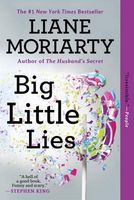 Sometimes it's the little lies that turn out to be the most lethal....

A murder ….. a tragic accident ..... or just parents behaving badly?
What's indisputable is that someone is dead.
But who did what?

Big Little Lies follows three women, each at a crossroads:

Madeline is a force to be reckoned with. She's funny and biting, passionate, she remembers everything and forgives no one. Her ex-husband and his yogi new wife have moved into her beloved beachside community, and their daughter is in the same kindergarten class as Madeline's youngest (how is this possible?). And to top it all off, Madeline's teenage daughter seems to be choosing Madeline's ex-husband over her. (How. Is. This. Possible?).

Celeste is the kind of beautiful woman who makes the world stop and stare. While she may seem a bit flustered at times, who wouldn't be, with those rambunctious twin boys? Now that the boys are starting school, Celeste and her husband look set to become the king and queen of the school parent body. But royalty often comes at a price, and Celeste is grappling with how much more she is willing to pay.

New to town, single mom Jane is so young that another mother mistakes her for the nanny. Jane is sad beyond her years and harbors secret doubts about her son. But why? While Madeline and Celeste soon take Jane under their wing, none of them realizes how the arrival of Jane and her inscrutable little boy will affect them all.

Big Little Lies is a brilliant take on ex-husbands and second wives, mothers and daughters, schoolyard scandal, and the dangerous little lies we tell ourselves just to survive.
Full Synopsis
About the Book
Published:

Aug-2014

(Hardcover)

Aug-2015

(Paperback)

Formats:

Print / eBook / Audio

Pages:

416

Age Level:

18 & up

Purchase:
What Readers Are Saying
What do you think? Write your own comment on this book!
Write a Comment

"The Blonde Bobs rule the school. If you want to be on the P&C you have to have a blonde bob…..They're like Mum Prefects, they feel very strongly about their roles as school mums. It's like their religion. They're fundamentalist mothers"

Big Little Lies is the sixth novel by Australian author, Liane Moriarty. The Pirriwee Peninsula on Sydney's Northern Beaches is home to a diverse range of people, many of whom have children at the Pirriwee Public School and so are present at the Annual Trivia Night Fundraiser. But this year, one of those parents ends up dead. This one, intriguing fact is presented in the first chapter, after which the narrative jumps back six months to trace the sequence of events that led to the tragedy.

Moriarty uses three narrators, each of whom has children starting in Kindergarten: Madeline, confident, outgoing and never averse to voicing her outrage at the smallest injustice; Jane, a single mum with a dark secret in her past; and Celeste, rich and beautiful, and married to a seemingly perfect man. Other perspectives are presented in the form of quotes (some quite perceptive, some decidedly frivolous) recorded after the event by a journalist, from parents and teachers present on the night.

Moriarty gives the reader an original plot with a twist that only the most astute reader will predict. The setting is commonplace and easily recognisable and Moriarty captures the feel of the school situation perfectly. The dialogue is familiar from any café or school playground and the characters are real and flawed; none is wholly good or completely evil. Several characters will surprise at the climax, and the reader may even feel some sympathy for the abuser. Readers are likely to find themselves hoping none of the narrators is the Trivia Night victim.

Moriarty touches on some topical themes as well as some age-old topics: domestic violence; body image; the dangers of a one-night-stand; bullying; victim mentality; erotic asphyxiation; infidelity; and bizarre internet auctions. She manages to include a lost plush toy, a Kindy Mothers race, head lice (of course!), a petition, a twisted ankle, a French nanny, little bullies and big bullies, an ex-husband, a gorgeous barista, a profusion of Elvises and Audrey Hepburns and plenty of laugh-out-loud moments.

Moriarty gives her characters both wise words and amusing observations: "Then, as she hit her late thirties, her body said: OK, you don't believe in PMT? I'll show you PMT. Get a load of this, bitch" and "Ex-husbands should live in different suburbs. They should send their children to different schools. There should be legislation …..". Also "She looked straight ahead at the briskly working windshield wipers. The windscreen was just like never-ending cycles of her mind. Confusion. Clear. Confusion. Clear. Confusion. Clear." and "Jane saw that Madeline's feelings about Jane's baking were similar to Jane's feelings about Madeline's accessories: confused admiration for an exotic sort of behaviour"

Fans of The Husband's Secret will not be disappointed with Big Little Lies. Readers who can ignore the misspelling of peninsula throughout the text will agree that this is, once again, a brilliant read.