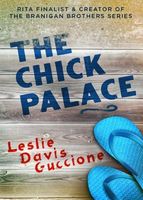 Newest Release
Bibliography:

17 Books - 1 Series

First Book:

May 1986

Latest Book:

December 2011

Rating:
Full Series List in Order
1 - Bittersweet Harvest (Oct-1986)
2 - Still Waters (May-1987)
3 - Something in Common (Sep-1987)
4 - Branigan's Touch (Oct-1989)
5 - Private Practice (Mar-1990)
6 - Branigan's Break (Jan-1995)
Multi-Author Series List
10 -
Branigan's Touch
(Oct-1989)
Derek
(Jul-1993)
Book List in Order:
17

titles
Before the Wind

"What you need," her brother said, "is a wild, honest-to-goodness fling." Maybe he was right. For the past two years, Bay Chandler had concentrated solely on sailing charter boats in the Virgin Islands. It kept her busy -- and too exhausted to think ...

---

Bittersweet Harvest

SEVEN BRIDES FOR SEVEN BROTHERS Well, there were only six Branigan brothers, but that was already six too many for Holly Bancroft. She'd come to Millbrook to sell her inherited estate and be done with it. Simple. But she found that nothing was sim...

---

Still Waters

BITTERSWEET LOVE Sky was coming home. After years of shuttling between seasonal family homes, she decided the small town of Millbrook was where she belonged. Schuyler House was hers, and she planned to make it the historical showpiece it had once ...

---

Something in Common

COMMON GROUND As the eldest of six orphaned brothers, Kevin Branigan had had a strong hand in raising the others. Now he was ready to settle down to his own brand of living: a little wine, women--and a lot of hard work. Erin O'Connor didn't fit...

---

Branigan's Touch

MR. OCTOBER MAN: Jody Branigan RELUCTANT MISSION: To unleash the full force of his Branigan charm on unsuspecting Megan O'Connor. UNEXPECTED SNAG: Megan's own irresistible attractions -- bewitching baby blues and a body that wouldn't quit! If h...

---

Private Practice

TEMPERATURE RISING After one broken engagement, Bridget O'Connor had sworn off parties, blind dates and crushes on cute TV cops. In fact, she wanted nothing to do with men of any description! But then she met Matthew Branigan, and he more than liv...

---

Nobody Listens to Me

Father vs. daughter Mendy loves spending time with her father on his boat, Summer Seas, and since her mother's death, they've grown very close. Mendy especially enjoys going with him on his whale-watching excursions, spotting humpback whales as th...

---

A Gallant Gentleman

A GENTLEMAN NEEDS A LADY.... When Kay McCormick was hired as Sailing Master at a prestigious Connecticut yacht club, she never expected to find the man of her dreams in Jake Bishop. Devastatingly handsome, the rugged seaman was every woman's fanta...

---

Rough and Ready

MONTANA BOUND As far as Dory Lydon was concerned, men were no more trustworthy than snakes--and she intended to steer clear of both while she was visiting her family's ranch in Montana. But then she ran into six feet, two inches of green-eyed ange...

---

---

---

A Rock and a Hard Place

BUSINESS . . . OR PLEASURE? If Amanda Mendenhall's new business partner thought he could worm himself into her personal life, he could pack up that briefcase and head to the elevators. She wasn't about to lose her head or her heart again--especial...

---

Derek

NEED TO GET AWAY? Name: Derek Tate Education: Building boats, furniture ...and a future more stable than the past Hometown: Skerrystead, Massachusetts Declaration of Independence: I'm a builder by profession, even if it is a profession that s...

---

Major Distractions

SINGLE GUY SEEKS... Footloose and fancy-free woman When I first saw Lindsey Major, she was putting on a kiddie puppet show. Next thing I knew, she was hitting me up for a "real" job. Well, Lindsey sure is qualified--for the job and for me--but ...

---

Branigan's Break

SINGLE DAD... DOUBLE TROUBLE Sean Branigan was a struggling single father, trying to understand the minds--and hearts--of his two teenage daughters. No easy task, since he grew up with five brothers and no sisters! All things considered, though, h...

---

---

Borrowed Baby

TEMPORARY DADDY No woman could resist a single dad with a toddler in tow. At least, that was what journalist Nick Hansen set out to prove for his article on dating. So in the name of research, the confirmed bachelor borrowed his two-year-old nephew ...

---

The Chick Palace

/ General Fiction

A novel of female friendship and summer romance from the RITA Award finalist and creator of the Branigan Brothers series.   Three dilemmas. Two friends. One abandoned treehouse.   Johanna Lawrence and Lilly Covington have a friendship that ...

---
Frequently Asked Questions (FAQ)
Leslie Davis Guccione has published 17 books.
Leslie Davis Guccione does not have a new book coming out soon. The latest book, The Chick Palace, was published in December 2011.
The first book by Leslie Davis Guccione, Before the Wind, was published in May 1986.
Yes. Leslie Davis Guccione has 1 series.