Description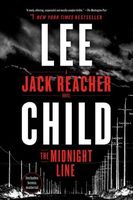 Reacher takes a stroll through a small Wisconsin town and sees a class ring in a pawn shop window: West Point 2005. A tough year to graduate: Iraq, then Afghanistan. The ring is tiny, for a woman, and it has her initials engraved on the inside. Reacher wonders what unlucky circumstance made her give up something she earned over four hard years. He decides to find out. And find the woman. And return her ring. Why not?

So begins a harrowing journey that takes Reacher through the upper Midwest, from a lowlife bar on the sad side of small town to a dirt-blown crossroads in the middle of nowhere, encountering bikers, cops, crooks, muscle, and a missing persons PI who wears a suit and a tie in the Wyoming wilderness.

The deeper Reacher digs, and the more he learns, the more dangerous the terrain becomes. Turns out the ring was just a small link in a far darker chain. Powerful forces are guarding a vast criminal enterprise. Some lines should never be crossed. But then, neither should Reacher
Full Synopsis
About the Book
Published:

Nov-2017

(Hardcover)

Apr-2018

(Paperback)

Formats:

Print / eBook / Audio

Pages:

400

Purchase:
What Readers Are Saying
What do you think? Write your own comment on this book!
Write a Comment

I love the Jack Reacher series and I love Jack Reacher as a character. In this book we see a softer side to Reacher, but when tested, the man of the iron will, and the even harder muscles emerges in different places throughout the book. The story starts with a small West Point ring that he finds in a pawnshop. Reacher wonders why anyone would give up a ring that they worked so hard for. It sends him on a journey to the wilds of Wyoming, chasing a soldier's story. On the way he meets up wih an ex-FBI man turned private investigator, who it turns out is searching for the same woman. They make an unlikely, but effective duo and on the way they uncover a very sophisticated drug ring that spans across three or four states. The book was fun, even if it was a little slower paced than most of the previous books in this series. I eagerly await the next one.