Description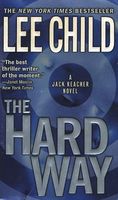 Jack Reacher was alone, the way he liked it, soaking up the hot, electric New York City night, watching a man cross the street to a parked Mercedes and drive it away. The car contained one million dollars in ransom money because Edward Lane, the man who paid it, would do anything to get his family back.

Lane runs a highly illegal soldiers-for-hire operation. He will use any tool to find his beautiful wife and child. And Jack Reacher is the best man-hunter in the world.

On the trail of vicious kidnappers, Reacher learns

the chilling secrets of his employer's past...and of a horrific drama in the heart of a nasty little war. He knows that Edward Lane is hiding something. Something dirty. Something big. But Reacher also knows this: he's already in way too deep to stop now. And if he has to do it the hard way, he will.
Full Synopsis
About the Book
Published:

May-2006

(Hardcover)

Apr-2007

(Paperback)

Formats:

Print / eBook / Audio

Pages:

477

Purchase:
What Readers Are Saying
What do you think? Write your own comment on this book!
Write a Comment

Once more, Reacher arrives at an arbitrary destination and trouble finds him.

In this tenth episode of the Jack Reacher saga, Reacher is enjoying his coffee outside a restaurant. From his many years as a Military Police Officer, he's fully observant of his surroundings. He spots a man cross his line of vision, get into a Mercedes and leave. The next night, Reacher is back at the same spot when a military looking man with a British accent asks if he noticed anything last night. Reacher tells him about the man and the car. Hearing this, the man asks Reacher to see Edward Lane.

Lane lives at the Dakota House and tells Reacher that his wife and her child have been kidnapped and what he saw was the man leaving with the ransome of a million dollars. He informs Reacher that this also happened five years ago. Lane's first wife, Anne, was kidnapped and when he went to the police, she was killed. That's why he doesn't want police involved this time.

Even though Lane is accompanied by a number of men who look like mercenaries, it's obvious to Reacher that they lack investigative skills. He offers to help.

The investigation proceeds slowly. The kidnappers call back and increase their monetary demand. Later, Reacher is able to be on his own and arranges to meet with the FBI agent who was in charge of the case when Lane's first wife was killed.

The agent, Lauren Pauling, still feels guilty about Anne's death. However, Reacher sees that he can trust her and they work together to attempt to solve the case.

This is a fast moving, constantly suspenseful story, complete with plot twists, deception and action packed adventure. Reacher, as always, is one of the most courageous, dependable and resourceful characters in literature.