Description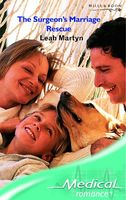 A second chance at marriage?
Adam Westerman is a successful Sydney surgeon and has returned to the Outback to find the beautiful, passionate ex-wife he's never managed to forget.
Liv Westerman is now a charge nurse at a small Outback hospital, and she's more than glad to see Adam. But she fears he may have only come for custody of their child.
They discover the desperate need felt for each other has never gone away, and Liv finds herself hoping that he has come back for both of them….