Description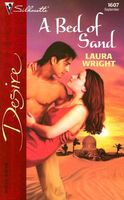 SHE'D MADE HER BED -- NOW SHE HAD TO SHARE IT!

Rita Thompson was getting married. She just hadn't bothered to invite the groom -- her boss, Sheikh Sakir Al-Nayhalm -- to his own wedding. Rita had concocted the whole scheme to successfully reunite her alienated family. Everything had gone according to plan...until she found Sakir standing at the altar waiting for her!

And Sakir had a proposal of his own for the blushing bride. Rita would be his wife for three weeks in his home country of Emand, then they would dissolve

the union. There would be no touching, no kissing... no taking possession of her delectable body. But there were some vows a man couldn't keep!
Full Synopsis