Description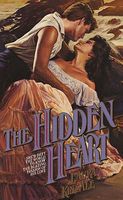 HER HEART CHOSE LOVE

Tess Collier had spent most of her young life wandering the exotic lands of the world with her father, the Earl of Morrow. But when he died in the Amazon jungle, Tess reluctantly prepared to honour his last wish and return to England and a "suitable marriage."

The voyage home aboard the clipper ship captained by the handsome and mysterious Gryphon Meridon changed everything. Hired to bring Tess home safely, Gryf is also charged with protecting her from improper suitors - a difficult job for a man obsessed with wanting her himself.

The unconventional Tess is drawn like a magnet to her daring protector, and swept by the searing passion of his love. But only after Gryf rescues her from a disastrous marriage can she escape with the romantic adventurer who promises to make all her wildest fantasies come true.
Full Synopsis