Description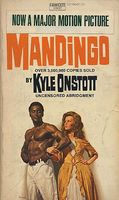 HUMAN BREEDING FARM

Behind the hoop skirts and hospitality, the mint juleps and magnolia blossoms of the Old South was a world few people knew existed--a world of violence, cruelty, greed and lust.

MANDINGO brings to vivid life the sounds, the smell, the terrible reality of the slave-breeding farms and plantations where men and women were mated and bred like cattle.

You may rave about MANDINGO or you may hate it, but you won't be able to lay it down, because it is a terrible and wonderful novel!