Description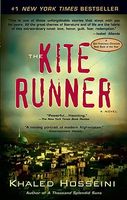 The Kite Runner follows the story of Amir, the privileged son of a wealthy businessman in Kabul, and Hassan, the son of Amir's father's servant. As children in the relatively stable Afghanistan of the early 1970s, the boys are inseparable. They spend idyllic days running kites and telling stories of mystical places and powerful warriors until an unspeakable event changes the nature of their relationship forever, and eventually cements their bond in ways neither boy could have ever predicted. Even after Amir and his father flee to America, Amir remains

haunted by his cowardly actions and disloyalty. In part, it is these demons and the sometimes impossible quest for forgiveness that bring him back to his war-torn native land after it comes under Taliban rule. ("...I wondered if that was how forgiveness budded, not with the fanfare of epiphany, but with pain gathering its things, packing up, and slipping away unannounced in the middle of the night.")
Full Synopsis
About the Book
Published:

Formats:

Print / eBook / Audio

Pages:

4

Age Level:

18 & up

Purchase:
What Readers Are Saying
What do you think? Write your own comment on this book!
Write a Comment

This book has been hyped since it came out in 2004 and it is definitely worth all the kudos that it has received. It is a very well-written book, gritty and real with real characters that leap off the page. The descriptions that we get of life in Afghanisatan from 1975 to 2001 are very realistic and hard to read at times. It's a hard life in a country that doesn't allow people the freedom to be themselves and to pursue their hopes and dreams or even to live their lives without fear and trepidation. It didn't start out that way. When the book opens in 1975 Afghanistan was a relatively peaceful country with warm people. But years of war and governance by the Taliban has certainly changed that. This book is about two Afghani boys who lived and played in the Afghanistan of the early 70's. These boys, right from the beginning of the book, seem to be two sides of the same coin. One priviliged and living in luxury and the other a servant and living in a small mud hut. In spite of this difference in their fortunes, these two boys are the best of friends. The book is about friendship and family loyalty. It is also about guilt and sadness. So much guilt, and so much sadness is experienced by these two, originally carefree Afghani boys. I found the book a bit difficult to read at times because of the unrelenting grief and also because of the terrible guilt that keeps resurfacing throughout. This is definitely an unforgettable and memorable book. I'm glad I finally got around to reading it.