Description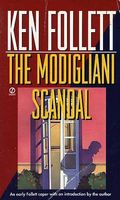 THE PRIZE
A fabulous "lost masterpiece".. and the instant fame and fortune that came with it.

THE PLAYERS
A beautiful art historian who would do anything to anyone to get there first. An angry young painter with a plan for revenge on the art establishment. And a desperate gallery owner who may have double-crossed his own life away.

THE RULES
Anything goes: theft, forgery, betrayal, and maybe even murder.