Description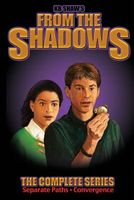 The Popular Web Serial Comes to Print!
Two teens and a young reporter are drawn into a world of mystery, adventure, and romance when a former child prodigy unleashes a technological revolution that could change the world.
Author KB Shaw creates a story from the not so distant future. This is a book aimed at young adults although not limited to them. It explores the leap into quantum computing. Cameron and Rosa are two 15 year old cyber geeks that apply
to and are accepted into a new cyberschool. This story mixes the empathy for the characters of the Harry Potter stories and the politics of the X-Men. This series has a chance to make it big if it gets a chance.
 -- SFReader.com
 
 The storyline is fast paced, a book hard to put down. It's clever, with mischievous interplay among the characters, fun, creative and intelligent, with scientific and historic details interspersed throughout. True to science fiction form it evokes the spirit of darkness as evil, the shadow, the phantom that slowly emerges. There's a touch of A Wrinkle in Time as this darkness grows and a sense of 2001: a Space Odyssey and the computer Hal, all with a bit of Dickens' ghost, the specter of Christmas past. A great read. 
 -- Barb Cutler, St. Joseph School Library, Seattle, WA 
Shaw has written a relevant and compelling story. In the tradition of Harry Potter and Ender Wiggin, we see a child prodigy. Only this time there is a twist. The prodigy is all grown up. Shaw brilliantly weaves technology, humor, and romance into a hip, age-blind novel. Unlike Harry Potter, most of Shaw's world is realistic and plausible. Children will be able to relate to Cameron and Rosa. As Cameron and Rosa learn not only life lessons but also history lessons so will the reader. Shaw has a winner here. 
 -- Budd Black, Boston Science Fiction Book Club
Full Synopsis
About the Book
Published:

Mar-2014

Formats:

Print / eBook

Pages:

376

Age Level:

08-12

Purchase: