Description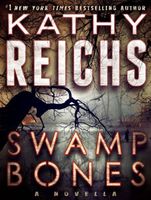 Forensic anthropologist Temperance Brennan returns in a chilling eBook original novella from #1 New York Times bestselling author Kathy Reichs. In the prequel to Reichs's upcoming thriller Bones Never Lie, Tempe takes a much-needed vacation—but murder follows wherever she goes.
 
Although a trip to Florida is supposed to be about rest and relaxation, there's no such thing as a day off for Dr. Temperance Brennan. She has come to visit her friend, a dedicated ornithologist who's researching the threat that intrusive Burmese pythons pose to indigenous bird species in the Everglades. While sorting through the stomach of an eighteen-foot specimen, they make a disturbing discovery: bones that are unmistakably human. And when Tempe spots the telltale signs of murder by a very different kind of predator, she's drawn into a case with its roots in the darkest depths of the swamp.
 
Features a preview of the highly anticipated new Temperance Brennan novel, Bones Never Lie!
 
Praise for the novels of Kathy Reichs
 
"[Reichs is] a genius at building suspense."—New York Daily News
 
"Reichs, a forensic anthropologist, makes her crime novels intriguingly realistic."—Entertainment Weekly
 
"Tempe Brennan is the lab lady most likely to dethrone Patricia Cornwell's Kay Scarpetta."—USA Today
 
"Every minute in the morgue with Tempe is golden."—The New York Times Book Review
 
"Reichs always delivers a pulse-pounding story."—Publishers Weekly
Full Synopsis
About the Book
Published:

Aug-2014

Formats:

eBook

Pages:

68

Purchase:
What Readers Are Saying
What do you think? Write your own comment on this book!
Write a Comment

Swamp Bones is a novella in the Temperance Brennan series by forensic anthropologist and popular American author, Kathy Reichs and is presented in electronic format only. In Florida's Everglades for a break at the invitation of Dr Lisa Robbins, forensic ornithologist, Tempe finds that March is already hot and sticky. Before she even gets a chance to cool down and relax, she manages to get drawn into a murder investigation as she idly rummages through the stomach contents of a Burmese python (as you do). Her incidental finds draw the attention of the local sheriff, a wildlife biologist and a National Parks Law Enforcement officer. The investigation into the identity of the likely victim leads to an encounter with a live alligator, the Miccosukee Indian community and some swamp rednecks. Tempe's propensity to tackle a situation without support lands her in dangerous waters. Reichs has obviously done quite a bit of research of an ornithological and herpetological nature: this short offering contains plenty of facts about birds and snakes. Who even knew that there was a word for a non-human autopsy? This excellent Tempe taster also includes the opening chapter of the next Temperance Brennan novel, Bones Never Lie.