Description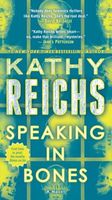 No one speaks the language of suspense more brilliantly than Kathy Reichs, author of the acclaimed Temperance Brennan series. In "Speaking in Bones," the forensic anthropologist finds herself drawn into a world of dark secrets and dangerous beliefs, where good and evil blur.

Professionally, Temperance Brennan knows exactly what to do -- test, analyze, identify. Her personal life is another story. She's at a loss, wondering how to answer police detective Andrew Ryan's marriage proposal. But the matter of matrimony takes a backseat when murder rears its head.

Hazel "Lucky" Strike -- a strident amateur detective who mines the Internet for cold cases -- comes to Brennan with a tape recording of an unknown girl being held prisoner and terrorized. Strike is convinced the voice is that of eighteen-year-old Cora Teague, who went missing more than three years earlier. Strike is also certain that the teenager's remains are gathering dust in Temperance Brennan's lab.

Brennan has doubts about working with a self-styled websleuth. But when the evidence seems to add up, Brennan's next stop is the treacherous backwoods where the chilling recording (and maybe Cora Teague's bones) were discovered. Her forensic field trip only turns up more disturbing questions -- along with gruesome proof of more untimely deaths.

While local legends of eerie nocturnal phenomena and sinister satanic cults abound, it's a zealous and secretive religious sect that has Brennan spooked and struggling to separate the saints from the sinners. But there's nothing, including fire and brimstone, that can distract her from digging up the truth and taking down a killer -- even as Brennan finds herself in a place where angels fear to tread, devils demand their due, and she may be damned no matter what.
Full Synopsis
About the Book
Published:

Jul-2015

(Hardcover)

Jan-2016

(Paperback)

Formats:

Print / eBook / Audio

Pages:

336

Purchase:
What Readers Are Saying
What do you think? Write your own comment on this book!
Write a Comment

I've been reading Kathy Reichs Tempe Brennan series since the first book came out. it was always a series that I loved and couldn't wait for the next book to come out. In fact because of her books, I gave up on reading the Kay Scarpetta series which started out great, but in my mind suffered greatly later on in the series. Unfortunately, I was seeing the same thing happen in this series about four or five books ago. They seemed rushed, disjointed and almost frenetic. But with Book 18 in the series, Kathy Reichs has brought back the Tempe Brennan that I knew and loved. This is a wonderful book! Edge of your seat suspense, hard driving plot and most of all stubborn, tenacious Tempe. Add a little love tension and it makes this book a winner. It all starts when a pugnacious sixty-something woman comes into Tempe's office asking for help to find a missing person (who by the way has never been logged as a missing person). Tempe is not surprisingly skeptical, especially when she finds out that Hazel "Lucky Strike" is a web sleuth who thinks she has information on one of the sets of unidentified remains that Tempe had logged into a database years ago. As Tempe sets out on her search she finds out more than she wants to know about religious zealots, Carolina hills people and websleuthing. At great danger to herself she pursues her leads to get to the bottom of it. For those who have decided to stop reading this series for any reason, I strongly urge you to read this book. It's great to see the old Tempe Brennan and the wonderful plotting again.
"You have no positive ID on any of the Brown Mountain remains. You have no DNA…..You have no known victim, no primary scene, no weapon, no motive, no witnesses, no legit suspect. You don't know for sure if Cora Teague is dead. Or even missing"

Speaking in Bones is the eighteenth full-length novel in the Tempe Brennan series by American forensic anthropologist and author, Kathy Reichs. Tempe finds herself intrigued and horrified by the somewhat dubious evidence that Hazel Strike (aka Lucky) presents to convince her that a set of her unidentified remains (UIDs) could belong to a victim of torture. Cora Teague has not been seen since 2011, but her family don't consider her missing: that claim comes from a poster on the CLUES website going by the handle of OMG; the post attracted Lucky Strike, a dedicated Websleuther with a successful ID attributed to her work.

Against the considered advice of her own colleagues, of Ryan and of the Deputy initially involved in the case, and even against her own better judgement, Tempe heads for the Blue Ridge Mountains of North Carolina. Multiple visits there uncover further clues to the identity of the UID, but also put Tempe's life in danger. More bones, some religious fanatics, a well-trained sniffer dog and a few interesting artefacts are encountered. At the same time, Tempe is distracted by her mother, Daisy's behaviour, and careful consideration of Ryan's unexpected proposal.

In this instalment, Reichs explores the preserving properties of pine sap, the reason a corpse might be devoid of fingerprints, exorcism, the inadequacies of systems for dealing with Missing Persons and Unidentified remains, and the growing phenomenon of Websleuthing. A fundamentalist splinter group of mainstream religion, a certain rare disease state and mental illness also feature.

If Reichs could just dispense with two minor irritations that seem to be de rigeur for every Tempe Brennan novel, then these books would be pretty much perfect. 1. It's really not necessary to end so many chapters with a cliff-hanger sentence: these books are page-turners already so there is no need to resort to this sort of gimmick. 2. Just once it would be nice to see Tempe restrain her impatience and not rush headlong into a dangerous situation without backup. After all, she's an intelligent woman: would she really be this stupid time after time? Nonetheless, this is an excellent read.