Description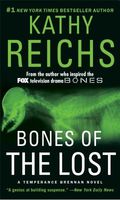 #1 New York Times bestselling author and producer of the Fox hit series Bones, Kathy Reichs returns with an unforgettable new novel featuring forensic anthropologist Tempe Brennan, whose examination of a mysterious hit-and-run victim triggers an investigation into human trafficking.

When Charlotte police discover the body of a teenage girl along a desolate stretch of two-lane highway, Temperance Brennan fears the worst. The girl's body shows signs of foul play. Inside her purse, police find an airline club card bearing the name of prominent local businessman John-Henry Story, who died in a horrific fire months earlier. How did Story and the girl know each other? Was she an illegal immigrant turning tricks? Was she murdered? Was he?

Tempe must also examine a bundle of Peruvian dog mummies confiscated by U.S. Customs. A Desert Storm veteran named Dominick Rockett stands accused of smuggling the objects into the country. Could there be some connection between the trafficking of antiquities and the trafficking of humans?

As the complications pile on, Tempe must also grapple with personal turmoil. Her daughter, Katy, grieving the death of her boyfriend in Afghanistan, impulsively enlists in the army. Meanwhile, Katy's father, Pete, is growing frustrated by Tempe's reluctance to finalize their divorce. As pressure mounts from all corners, Tempe soon finds herself at the center of a conspiracy that extends all the way from South America to Afghanistan and right to the center of Charlotte.
Full Synopsis
About the Book
Published:

Sep-2013

(Hardcover)

Jun-2014

(Paperback)

Formats:

Print / eBook / Audio

Pages:

304

Purchase:
What Readers Are Saying
What do you think? Write your own comment on this book!
Write a Comment

As I stated in my review of Kathy Reichs book written before this one ("Bones are Forever"), I have noticed that the quality of these books is going downhill. This one seemed to start strong and it showed promise. The first third of the book was pretty good. It started with a hit and run death of a young unidentified girl. The death didn't look right to Tempe, so she and her somewhat strange sidekick Slidell were on the hunt for a killer. The second thrid of the book was long, unrelated and seemed to have no connection with the rest of the book. Why did Tempe go to Afghanistan, and why is so much of the book about her time there? I kept reading hoping there would be a connection and after ploughing through pages of stuff that I could have cared less about, I found no connection was put forward. In the third part of the book we do get back to the original story, but when the connection finally comes there are just too many coincidences. When I finished the book, I have to admit that I thought "Thank goodness that's over." I even found that the tension that is usually so evident throughout a Temperance Brennan book was strangely not maintained in this one. I have to say that I'm disappointed, but I did manage to finish the book, so not a total loss for me I guess.