Description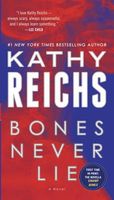 The evidence is irrefutable: In sixteen New York Times bestsellers over the course of as many years, Kathy Reichs has proven herself "a genius at building suspense" (New York Daily News). In forensic anthropologist Temperance Brennan, Reichs has created a detective fiction heroine who's brilliant to the bone. "Every minute in the morgue with Tempe is golden," says The New York Times Book Review. In the acclaimed author's thrilling new novel, Brennan is at the top of her game in a battle of wits against the most monstrous adversary she has ever encountered.

Unexpectedly called in to the Charlotte PD's Cold Case Unit, Dr. Temperance Brennan wonders why she's been asked to meet with a homicide cop who's a long way from his own jurisdiction. The shocking answer: Two child murders, separated by thousands of miles, have one thing in common -- the killer. Years ago, Anique Pomerleau kidnapped and murdered a string of girls in Canada, then narrowly eluded capture. It was a devastating defeat for her pursuers, Brennan and police detective Andrew Ryan. Now, as if summoned from their nightmares, Pomerleau has resurfaced in the United States, linked to victims in Vermont and North Carolina. When another child is snatched, the reign of terror promises to continue -- unless Brennan can rise to the challenge and make good on her second chance to stop a psychopath.

But Brennan will have to draw her bitter ex-partner out of exile, keep the local police and feds from one another's throats, and face more than just her own demons as she stalks the deadliest of predators into the darkest depths of madness.

In Bones Never Lie, Kathy Reichs never fails to satisfy readers looking for psychological suspense that's more than skin-deep.
Full Synopsis
About the Book
Published:

Sep-2014

(Hardcover)

Feb-2015

(Paperback)

Formats:

Print / eBook / Audio

Pages:

352

Purchase:
What Readers Are Saying
What do you think? Write your own comment on this book!
Write a Comment

Tempe Brennan finds herself reliving a very unpleasant case from eight or nine years previously. It was a case that her and Andy Ryan had investigated in Montreal. Numerous young, pre-teen girls were abducted from their homes and their bodies were discovered months later. It was obvious from the remains that the girls had been imprisoned and tortured for some months. Ryan and Tempe found their killers. One was caught, but one got away. Anique Pomerleau evaded the net that was cast out to capture her. Now in Charlotte, South Caroline, other bodies of young, pre-teen girls are found. The circumstances of their deaths is different, but the similarities are too conspicuous to be ignored. Tempe and Ryan are on the hunt for the monster who is Anique Pomerleau. The book goes from Charlotte to Montreal to Vermont and back to Charlotte as Tempe and Ryan try to find this woman who kills young girls. The similarities of the new abductions and killings to the abductions and killings in Montreal, have Tempe on edge and strangely feeling like she is an observer in some macabre play. It was a joy to see Kathy Reichs back to her old writing self. I thought this book was like reading the earlier Tempe Brennan books. It moves along at a cracking pace, and the characters are wonderfully drawn. I almost had given up on this series, but I'm glad I decided to give it one more try.
Bones Never Lie is the seventeenth book in the popular Temperance Brennan series by American forensic anthropologist and author, Kathy Reichs. Tempe is summoned to the Cold Case Unit in Charlotte when victim characteristics (pre-pubescent teenaged girls), posed corpses, undetermined cause of death and DNA evidence point to coldblooded serial killer, Anique Pomerleau, a woman suspected of murders that Tempe and Detective Andrew Ryan investigated ten years earlier in Montreal. Ryan's input is needed, but he has disappeared in reaction to his daughter's untimely death. The condition of Tempe's mother, Daisy is another distraction from the case, which itself becomes more urgent with the disappearance of another young teen. Added to this is the friction between Slidell of the CMPD and Agent Tinker of the SBI, involved for political reasons. With assistance from a surprising quarter, Tempe tracks down Ryan and somehow induces him to assist.
The investigation sees Tempe travelling to Montreal, Vermont and back to Charlotte as more previously missing teens are found to fit the description and a pattern emerges. While there is less about bones in this instalment, there are still several interesting items explored: the use of lip prints; preservation of bodies in syrup; carbon monoxide poisoning; and a rare genetic disorder that acts as a red herring in the investigation. Suspects keep turning up dead, leading to more than one anti-climax, and there is an unexpected shooting. There are plenty of twists and turns in the plot before the breath-taking climax is reached.
Readers will welcome the return of Detective Ryan with his clever quips: the snappy banter between Ryan and Tempe has always been an enjoyable feature of these novels. The introduction of the smart and sassy Daisy Brennan is a (hopefully not-too-short-lived) delight. Reichs will also please many fans with a surprise in the final pages and once again proves she is at the top of her game with this excellent page-turner.