Description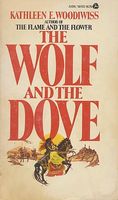 The Searing, Turbulent Romance of a Beautiful High-born Saxon Maiden and the Bold Foreign Invader who Came to Conquer Her!

As hordes of Norman invaders sweep Saxony in 1066, the lovely Aislinn of Darkenwald is torn between loyalty to her own Saxon people and her tempestuous romance with Wulfgar -- the Iron Wolf of Normandy.

Can her consuming passion for him wipe out the memory of her father's murder -- her mother's shame -- her own savage violation -- all at the hands of Wulfgar's conquering forces?
About the Book
Published:

Mar-1974

Aug-2007

(Paperback)

Formats:

Print / eBook / Audio

Pages:

512

Purchase: