Description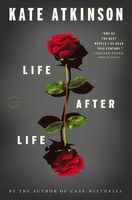 What if you could live again and again, until you got it right?

On a cold and snowy night in 1910, Ursula Todd is born to an English banker and his wife. She dies before she can draw her first breath. On that same cold and snowy night, Ursula Todd is born, lets out a lusty wail, and embarks upon a life that will be, to say the least, unusual. For as she grows, she also dies, repeatedly, in a variety of ways, while the young century marches on towards its second cataclysmic world war.

Does Ursula's apparently infinite number of lives give her the power to save the world from its inevitable destiny? And if she can -- will she?

Darkly comic, startlingly poignant, and utterly original -- this is Kate Atkinson at her absolute best.
Full Synopsis
About the Book
Published:

Apr-2013

(Hardcover)

Jan-2014

(Paperback)

Formats:

Print / eBook / Audio

Pages:

525

Purchase:
What Readers Are Saying
What do you think? Write your own comment on this book!
Write a Comment
Life After Life is a book of the Todd Family by award-winning British author, Kate Atkinson. Ursula Todd is born during a snowstorm on the night of 11th February, 1910. She does this again and again, and this fact (amongst others) remains constant throughout the telling of Ursula's lives, but, of course, there are also differences.

When, seemingly through chance, she does survive her birth, and the trials and potentially fatal mishaps that plague her childhood, Ursula's lives revolve around the family that inhabits Fox Corner, parents, siblings, a rather wild paternal aunt who visits, neighbours and friends.

As an adult, Ursula's life, along with those around her, is profoundly affected by war. Her favourite brother, Teddy loses his life when he is shot down over Berlin. But is there something she can do to stop seemingly inevitable events from occurring?

What a talented author Kate Atkinson is! She explores the idea that one might be able to change history, given enough chances, and does so in a familiar setting, with characters that easily find their way into the reader's heart (well, except for Maurice, that is). Add to that the interesting perspectives of certain well-known events: the London Blitz from the perspective of an Air Raid Precautions warden; the bombing of Berlin from the point of view of the German common people.

Atkinson's depth of research is apparent in every chapter. Each of Ursula's incarnations reveals a little more of the family, their history and character, as well as historic events like the influenza epidemic of 1918. From a literary perspective, the use of multiple incarnations is a novel device that allows her to try out a multitude of different life events with just one character.

While this is nothing like her Jackson Brodie books, fans of her work will not be disappointed. Luckily, they will be able to extend the pleasure (and get another dose of the Todd family and Fox Corner) in the companion volume, A god In Ruins. Another brilliant offering from this exceptional author.