Description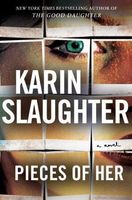 The #1 internationally bestselling author returns with a new novel in the vein of her New York Times bestsellers Pretty Girls and The Good Daughter -- a story even more electrifying, provocative, and suspenseful than anything she's written before.

What if the person you thought you knew best turns out to be someone you never knew at all...?

Andrea knows everything about her mother, Laura. She knows she's spent her whole life in the small beachside town of Belle Isle; she knows she's never wanted anything more than to live a quiet life as a pillar of the community; she knows she's never kept a secret in her life. Because we all know our mothers, don't we?

But all that changes when a trip to the mall explodes into violence and Andrea suddenly sees a completely different side to Laura. Because it turns out that before Laura was Laura, she was someone completely different. For nearly thirty years she's been hiding from her previous identity, lying low in the hope that no one would ever find her. But now she's been exposed, and nothing will ever be the same again.

The police want answers and Laura's innocence is on the line, but she won't speak to anyone, including her own daughter. Andrea is on a desperate journey following the breadcrumb trail of her mother's past. And if she can't uncover the secrets hidden there, there may be no future for either one of them...
Full Synopsis
About the Book
Published:

Aug-2018

(Hardcover)

Oct-2019

(Paperback)

Formats:

Print / eBook / Audio

Pages:

400

Purchase:
What Readers Are Saying
What do you think? Write your own comment on this book!
Write a Comment
Pieces of Her is the fourth stand-alone novel by popular American author, Karin Slaughter. August 2018: after Laura Oliver's fearless actions during a shooting in a diner, her daughter Andrea wonders who this cool heroine is, this woman who bears no resemblance at all to the suburban mom who has been her mother for thirty-one years.

So begins Karin Slaughter's latest thriller. This is merely the first of a series of dramatic events that soon has Andy, under instruction from this cold, businesslike stranger, on the run from their Belle Isle home, in the direction of Idaho via a storage unit in Carrollton. With each stop, Andy learns another shocking and utterly incredible fact about her mother.

Andy's narrative alternates with that of Jane Queller: in 1986, Jane's doubts about the direction of her lover's activist group solidify when their latest action leaves four dead. The Army of the Changing World is intent on altering the world for the better, and if that demands violent action, then Nicholas Harp, their exciting and charismatic leader, does not demur; perhaps he actually welcomes it? Whenever he is close by, though, Jane is under his spell.

A thriller it certainly is, and the action is non-stop: fans expect Slaughter's work to be exciting, but even the epilogue is far from sedate. The body count escalates courtesy of a variety of weapons: guns, knives, a cast-iron frypan, bombs, fists and a razor blade. There's kidnapping, forgery, impersonation, fraud, a secret tunnel, car theft, some old Polaroids, false IDs and a very large amount of cash. And in amongst all that, there's the occasional laugh-out-loud moment.

Both protagonists prove to be strong women after initially making poor decisions: Andy's early flakiness soon condenses into a focus on finding answers, leading her to ignore her mother's explicit instructions at her peril; Jane's brutal upbringing makes her an easy target for a psychopath, until she emerges from the fog of charm to see what's really happening.

The psychopath is brilliantly portrayed. Almost as an aside, there's a scene that comments on society's changing attitude to misdeeds, how apologies gain accolades, disgrace is short-lived and offenders can still aspire to become the President. With each successive novel, Slaughter sets herself a higher standard; with this one she easily maintains that trend. Another superb page-turner.