Description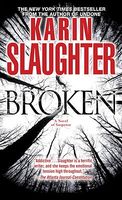 Karin Slaughter's spellbinding new novel features the return of her most beloved characters and introduces memorable new ones in an unforgettable story of raw emotions, deadly betrayal, and the most painful of human truths.

When Special Agent Will Trent arrives in Grant County, he finds a police department determined to protect its own and far too many unanswered questions about a prisoner's death. He doesn't understand why Officer Lena Adams is harboring secrets, or why Dr. Sara Linton, the widow of Grant County's popular police chief, needs him now more than ever to help her crack this case. Caught between two complicated and determined women, trying to understand Linton's passionate distrust of Adams, the facts surrounding Chief Tolliver's death, and the complexities of this insular town, Trent will unleash a case filled with explosive secrets -- and encounter a thin blue line that could be murderous if crossed.

Full Synopsis
About the Book
Published:

Jul-2010

(Hardcover)

Jan-2011

(Paperback)

Formats:

Print / eBook / Audio

Pages:

518

Purchase:
What Readers Are Saying
What do you think? Write your own comment on this book!
Write a Comment

"Broken" could very well describe most of the characters in this suspenseful novel.

Officer Lena Adams is called to the scene of a suicide note by a lover's lane, at Lake Grant. When divers recover the body, Lena sees a stab wound at the back of the victim's neck and knows that this is a murder.

The girl is identified as Allison Spooner, a college student and waitress at a nearby restaurant.

Lena accompanies acting chief Frank Wallace, to Allison's apartment. On route, Lena smells alcohol on Frank and sees him drinking from a flask.

At the apartment, they are met by detective Brad Stevens.
Brad looks into the apartment window and sees a person they believe is Allison's boyfriend, Tommy Brakam. He has a mask on and has a knife.

In the attempt to question Tommy, Brad is stabbed and Tommy is caught and jailed.

At the jail, Tommy commits suicide. In examining his background, we learn that he was a flawed, broken character. He was only nineteen-years-old and had an i.q. of around eight.

Dr. Sara Linton arrives at the station and learns that Lena was Tommy's interrogator. Sara had been married to the former chief and blames Lena for her husband, Jeff's, death. Sara was also the former coroner.

Now that Sara sees Tommy has committed suicide, she calls in Special Agent Will Trent to investigate possilbe police neglect.

Of the characters, Lena's flaw is her guilt over Jeff's death. Even though she has been cleared of the death, she still feels remorse.

Acting Chief Wallace's flaw is his alcoholism and that he appears headed for a breakdown.

Sara has a problem with forgiveness and becomes narrow minded.

This is an interesting portrayal of a town and the university. The university doesn't want bad publicity and sometimes attempts to cover up crimes.

I think that the reader will enjoy the story and the unique characters.