Description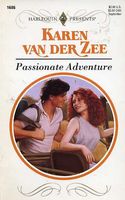 "Dr. Grant, I presume?"

Sasha had come to Africa in search of adventure, and to visit her niece Vicky, a nursing teacher in remote Obalabi: She hadn't quite expected the adventure to begin when Dr. Ross Grant met her at the airport.

But from the moment the attractive man hurled her suitcase disdainfully into his jeep and informed her that the last thing he needed right then was a "whining maiden aunt in tow," Sasha knew she was in for a bumpy ride. And that her heart stood to be bruised, if not broken, in the proce

ss.
Full Synopsis