Description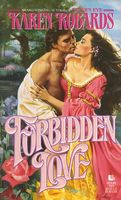 INNOCENCE AND ECSTASY

When Megan had last seen her guardian, handsome, aristocratic Justin Brant, she had been a rebellious child, and he had seemed a stern, forbidding figure.

Now, at seventeen, she was a breathtaking beauty, beneath whose dewy innocence lay the promise of unawakened sensuality. For the first time, they met as man and woman. Their desire for one another blazed into white hot passion, demanding to be fulfilled, though Megan knew she had given her body and her heart to the one man in the world whose

bride she could never be!
Full Synopsis