Description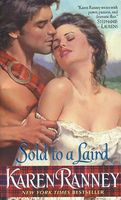 An Indecent Proposal . . .

When Douglas Eston arrives at the home of the Duke of Herridge, he expects to leave with an investment--not a wife With his brilliant ideas attracting attention all over London, Douglas does not need to rely on the duke. But when he meets Lady Sarah Baines, the stubborn beauty whose virtue her father would willingly sell, Douglas finds himself utterly entranced and desperate to protect her.

Lady Sarah Baines always knew her father was cruel. But this time he's gone too far. Demanding that

she marry a complete stranger--even an absurdly handsome one with eyes the color of a dawn sky--is utterly ridiculous. She swears she'll never submit to the wanton delights of the marriage bed. But soon Douglas's considerable charms prove impossible to resist . . . and the decadent ecstasy he offers shows Sarah that an affair that began with business can end with the ultimate pleasure.
Full Synopsis
About the Book
Published:

Dec-2009

Formats:

Print / eBook

Pages:

370

Purchase:
What Readers Are Saying
What do you think? Write your own comment on this book!
Write a Comment

from Romance Review Today

England and Scotland - 1860

Douglas Eston has arrived at the home of the Duke of Herridge to, hopefully, leave with an investment towards his invention. During the negotiations, the door bursts open and a vision of loveliness in the form of the duke's daughter, Sarah, appears. She ignores Douglas, and with trembling hands and lips, demands that her father allow her mother to remain at their home instead of going to Scotland. The Duke ignores his daughter as he returns to Douglas's query. When Douglas leaves, it is not only with the investment he came for, but with a wife!

Lady Sarah Baines is desperate to keep her comatose mother at home. Estranged from her husband, the duchess has wasted away, and Sarah knows that to move her would hasten her death. At odds with her father since birth, Sarah has always been terrified of the man, but the love for her mother is stronger, and her desperate attempt to keep the duchess in England has resulted in something she never anticipated...a husband. Sarah knows nothing about Douglas Eston and has no intention of consummating a marriage forced upon her, no matter how strikingly good looking her new spouse is.

The newlywed couple returns to Sarah's home, Chavensworth, where Douglas sets up his laboratory in the hillside observatory that had been Sarah's retreat. He hasn't yet told his new wife what it is he is developing, but then, she hasn't asked either. They sleep in the same room, but Sarah has moved a cot in for herself. It's going to take a lot of work on his part to soften the prickly Sarah.

What neither Sarah nor Douglas knows is what the other has been through in life. Although Douglas is rapidly becoming aware of how Chavensworth has become Sarah's obsession; she has a need to manage every little aspect of the great estate. She's had nothing else to live for, and now with her mother dying, there is a sense of panic that she is losing the only person who has ever loved her, and the only one Sarah has ever loved. Douglas must tread carefully to show her that she is not alone. But he has his own secrets, and it's not yet time to reveal them to his new wife.

I love Karen Ranney's writing and her in-depth analyses of people's foibles, good and bad. This character driven story grips the reader at page one when Sarah brushes aside her terror to confront her cruel, domineering father. It's also when Douglas sees a little of himself as he conquered fears to become the man he is. While secondary characters are a strong part of the book, Sarah and Douglas dominate.

SOLD TO A LAIRD is another of Ms. Ranney's wonderful Victorian-era novels that tell a powerful story and leaves a reader very satisfied.