Description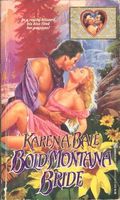 HE AWAKENED HER PASSIONS.
High-spirited Maddie Broderick refused to follow her father's advice and marry a rich man -- even though that was the only way to save the Broderick ranch. She would manage on her own before she'd marry for money. But her stubbornness nearly got her killed when she braved a raging blizzard to rescue her cattle and barely managed to find shelter in a cave. Then handsome half-breed Flint McCormick came to her rescue, the way he always had ... but this time it was different. This time the rugged ranchhand's touch made her strain toward him, longing to feel his sinewy body pressed against her own. And all at once, Maddie knew that her lifelong friend and protector must become her first and only lover no matter what the consequences!
SHE SURRENDERED TO HIS KISSES.
Flint had watched little Maddie grow up, always looking out for her and protecting her from harm. But when he finally tracked her through the snow to Eagle's Nest and wrapped his strong arms around her shivering body, he felt a surge of passion that was a far cry from brotherly affection! Her first kiss told him that Maddie was a woman now -- and that she wanted him as much as he wanted her! Flint vowed that once he'd warmed her rosy flesh with fiery caresses, he'd enflame her with ecstasy until she burned to feel the heat of his ultimate embrace ... and willingly became his own BOLD MONTANA BRIDE.
Full Synopsis
About the Book
Published:

May-1991

Formats:

Print

Pages:

448

Purchase: