Description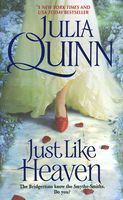 Honoria Smythe-Smith is:
A) a really bad violinist
B) still miffed at being nicknamed "Bug" as a child
C) not in love with her older brother's best friend
D) all of the above

Marcus Holroyd is:
A) the Earl of Chatteris
B) regrettably prone to sprained ankles
C) not in love with his best friend's younger sister
D) all of the above

Together they:
A) eat quite a bit of chocolate cake
B) survive a deadly fever and the world's worst musical performance
/> C) fall quite desperately in love

It's Julia Quinn at her best, so you know the answer is . . .

D) all of the above
Full Synopsis
About the Book
Published:

Jun-2011

Formats:

Print / eBook / Audio

Pages:

374

Age Level:

18 & up

Purchase:
What Readers Are Saying
What do you think? Write your own comment on this book!
Write a Comment

I really enjoyed this book. Thank you Julia Quinn!!

His mother died when he was four, his father saw to his care by hiring tutors, Marcus Holroyd had no friends till sent to Eton at ten years of age. There he met Daniel Smythe-Smith and his life changed. He was accepted into the Smythe-Smith family without question. Daniels sister, Honria Smythe-Smith, followed them everywhere, talking constantly and generally annoying them so her name became Bug.

Daniel was forced to leave England when Honoria was fifteen, he asked Marcus to look after her and see that she didn't marry some Nere-do-well. Though he hated the Season Marcus would follow the Smythe-Smith family to town, go to all the balls and even attend the annual Musical given by the family (no one went there if possible to escape). He detested crowds, didn't like being the center of attention, he was now a lord and considered a "catch".

Honoria and her family go to a house party before the season begins and Marcus follows to see who has caught Honoria's eye. While watching her set a trap for an unsuspecting bow he falls and sprains his ankle. In the process of getting back to his estate in the rain he catches a chill, his boot must be cut off and he gets a bad cut on his leg.

Honoria and her mother, as soon as they hear, rush to his aide. This is a very entertaining story, fun, romantic and amusing. I highly recommend it.

reread Nov.2014 listened to on April 24/15