Description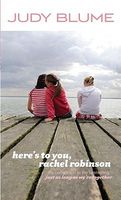 Rachel's a straight-A student, is on every teacher's wish list for Natural Helpers, and practices the flute forty-five minutes a day. But she grinds her teeth at night and dreads dinnertime now that her troublemaker brother, Charles, has been expelled from boarding school and is back home, acting up to get attention from their parents.

It's the end of seventh grade, and the stress of trying to be perfect is getting to Rachel. Plus she's busy dealing with her sister's acne problem, enjoying her secret crush on her brother's tutor,

going on a surprise date with the gorgeous Jeremy Dragon, and keeping her friendship with Stephanie and Alison strong. Could it be that real life is much more interesting than perfect life? If you're equipped with a good sense of humor, it is!
Full Synopsis
About the Book
Published:

Jan-1993

Sep-1994

(Paperback)

Formats:

Print / eBook / Audio

Pages:

196

Age Level:

10-13

Purchase: