Description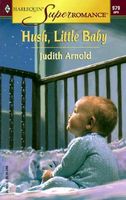 Architect Levi Holt plans houses -- for other people's families. He's a live-alone bachelor. Or he was. When his favorite sister leaves him her infant son, Levi can't refuse. He has no experience caring for children, let alone infants, but if parenting stumps him, he can enroll in the Daddy School to acquire whatever skills he needs.

Enter Corinne Lanier, sent by her boss to check out the house design he commissioned from Levi. She lives alone, too. And that's how she wants it -- until she falls for Levi and his young nephew.
/>
Why do things get so difficult just when Levi figures out how to be a father and finds a woman he adores? Just when Corinne trusts in love again -- love for Levi and for his sweet baby boy...

THE DADDY SCHOOL: Sometimes a man needs help learning to be a dad... That's what the Daddy School is all about.
Full Synopsis
About the Book
Published:

Apr-2001

Formats:

Print / eBook

Pages:

299

Purchase: