Description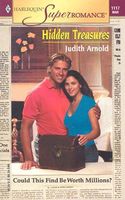 Wanna-be earth mother...
Erica Leitner knows all about big cities and culture -- after all, she grew up in Boston and went to Harvard University. But her idea of the good life is owning a small farm in New Hampshire and digging a garden. So she's come to the town of Rockwell to plant roots -- and zucchini -- and make this place her home.

Meets rebel with a cause!
Jed Willetz got his fill of Rockwell as a teenager and fled as soon as he could. He's back only temporarily to wrap up some family business. But his stay may be more exciting than he thought, because Erica Leitner -- whom Jed is instantly attracted to -- has found an antique box buried on land that used to belong to his grandfather, and Jed is thinking that the box and its bounty belong to him.

Hidden treasures are at stake. And not just the kind inside the box!
Full Synopsis
About the Book
Published:

Mar-2003

Formats:

Print / eBook

Pages:

304

Purchase: