Description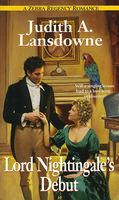 A LORD OF NOTE...

Nicholas Chastain, the Earl of Wickenshire, is in dire straits. His inheritance included three crumbling country estates, one tumble--down London townhouse, and a coach full of debts. His one hope for coming up with cash is to fulfill an outrageous and seemingly impossible condition in an old aunt's will. He must teach Lord Nightingale to sing.

A LADY OF SONG...

When a distant relative inherits her father's title, serendipity is at her lowest ebb. She hasn't a shilling to her name and

now her home is lost to her as well! She and her sister, the delightful Delight will end up on the streets unless Serendipity finds employment. Providing singing lessons for the ward of the handsome Earl of Wickenshire seems perfect--until she discovers her pupil is the incorrigible Lord Nightingale. Now Wickenshire's future depends on striking the right note.
Full Synopsis