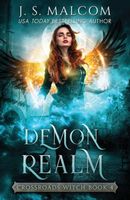 Newest Release
Bibliography:

16 Books - 4 Series

First Book:

September 2016

Latest Book:

November 2022
Full Series List in Order
1 - The Shadow Order (Apr-2021)
2 - Demon Soul (Jun-2021)
1 - Empyrean Witch (Oct-2019)
2 - Dark Coven Rising (Nov-2019)
3 - The Triple Goddess (Jan-2020)
1 - Realms of Ghosts and Magic (Oct-2017)
2 - Realms of Mist and Ash (Oct-2017)
3 - Realms of Fire and Shadow (Dec-2017)
4 - Realms of Mirrors and Demons (Apr-2018)
5 - Realms of Spells and Vampires (Jul-2018)
6 - Realms of Lightning and Dragons (Oct-2018)
1 - Autumn Winters (Sep-2016)
2 - In the Blood (Nov-2016)
3 - The Veil Witches (Jan-2017)
4 - Essential Magic (Jun-2017)
Book List in Order:
16

titles
Autumn Winters

Autumn Winters has a secret that could get her killed. She just doesn't know she's keeping it.Autumn Winters doesn't realize that she's come into her powers as a protector of the veil. All she knows is that her world suddenly looks onto another, one ...

---

In the Blood

Autumn Winters knows something that no one else knows. Now, she has to do something no one else would do. Autumn Winters has chased a race of supernatural beings from out of the shadows. Now, she's paying the price. Those same paranormal entities hav...

---

The Veil Witches

Autumn Winters has just started tapping into her powers as a witch. Someone wants to make sure she doesn't finish. Dark magic is being used to kill witches and vampires keep turning up dead in alleys. Autumn's best friend remains missing, almost ce...

---

Essential Magic

A supernatural war. A conflict between sister witches. The only thing thicker than blood is blood magic. With her most lethal supernatural enemies finally vanquished, Autumn Winters figures she must be in for a little downtime. Sure, she keeps encoun...

---

Realms of Ghosts and Magic

When the fae beckon, very few resist. Even fewer return. As a veil witch, I'm used to taking out the supernatural trash. Everything from poltergeists to vampires, you name it and I've dealt with it. So opening a paranormal cleanup business just s...

---

Realms of Mist and Ash

Getting into Faerie is risky enough. Getting out again may prove impossible.Entering Faerie is enough of a risk, never mind trying to free a changeling. That's never been done before, but that's exactly what has to happen if I'm going to rescue my be...

---

Realms of Fire and Shadow

In Faerie, magical power means everything. Keeping it means finding the key. After barely escaping with my life, returning to Faerie is the last thing I want to do. But my mission has grown only stronger now that I've sworn to save more held trappe...

---

Realms of Mirrors and Demons

We all wrestle with our demons. Some of us get out there and fight them. The plan was to return from Faerie, let the dust settle, get over it and move on. So far, only the dust has achieved its goal. But my work is done in that realm and time spent m...

---

Realms of Spells and Vampires

Unless I want a vampire for a sister, I better learn to trust one as a friend. There I was thinking saving Faerie had been challenging. Compared to what I'm up against now, fighting with the rebels to topple the Seelie regime seems like a walk in the...

---

---

Realms of Lightning and Dragons

According to prophecies, I'm the veil witch meant to save Faerie. The problem being, nowhere in those prophecies was it mentioned that I could pull it off twice.

They say desperate times call for desperate measures, but I doubt they meant anythin...

---

---

---

The Triple Goddess

I used to think I couldn't possibly be a demigoddess. Then again, I didn't used to have glowing magical tattoos.So far I've claimed two of the Morrígna talismans and been branded with two new magical runes in return. There's no doubt that my p...

---

The Shadow Order

Either I defeat the monster, or I become the monster.As if being locked up in the crazy house wasn't bad enough, I wake up to discover that the person I trust most in the world just morphed into a bloodthirsty monster. My only chance for escape comes...

---

---

Demon Realm

How did I end up being one of the good guys? I'm supposed to be a demon.Just when we thought the threats we were facing might finally be gone, a magical attack forces us to realize we couldn't be more wrong. As if the supposed Pureblood witches would...

---
Frequently Asked Questions (FAQ)
J.S. Malcom has published 16 books.
J.S. Malcom does not have a new book coming out soon. The latest book, Demon Realm, was published in November 2022.
The first book by J.S. Malcom, Autumn Winters, was published in September 2016.
Yes. J.S. Malcom has 4 series.