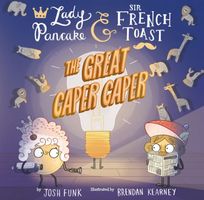 Newest Release
Bibliography:

17 Books - 3 Series

First Book:

September 2015

Latest Book:

November 2022

Rating:
Full Series List in Order
1 - How to Code a Sandcastle (May-2018)
2 - How to Code a Rollercoaster (Sep-2019)
1 - It's Not Jack and the Beanstalk (Sep-2017)
2 - It's Not Hansel and Gretel (Mar-2019)
3 - It's Not Little Red Riding Hood (Nov-2020)
1 - Lady Pancake and Sir French Toast (Sep-2015)
2 - The Case of the Stinky Stench (May-2017)
3 - Mission Defrostable (Sep-2018)
Book List in Order:
17

titles
Lady Pancake and Sir French Toast

"A tale of 'to-go' food that is good for you! . . . Kearney's illustrations kick butter, with full command of the story's arc.. . . Teachers and students alike will delight in this food fight. Who will be the winner? Readers will be hungry to f...

---

Dear Dragon

A sweet and clever friendship story in rhyme, about looking past physical differences to appreciate the person (or dragon) underneath. George and Blaise are pen pals, and they write letters to each other about everything: their pets, birthdays, fa...

---

Pirasaurs!

We're Pirasaurs! We're Pirasaurs! We rule the open seas! We'll cannon-blast you to the past!  We do just what we please! Meet the Pirasaurs, a ragtag team of seasoned pirate dinosaurs looking for adventure and treasure! There's fearsome Captai...

---

The Case of the Stinky Stench

"Uncle," Croissant said, "the fridge is in trouble! A mystery stench turned a whole shelf to rubble! I'm the last hope or the fridge will be lost! Help me or else we'll be cooked, served, and sauced."   There's a stinky stench in the fridge-...

---

It's Not Jack and the Beanstalk

Jack is not fond of the bossy narrator of his fairy tale! When Jack is told to trade his beloved cow Bessie for some magic beans, throw the beans out the window, climb the ENORMOUS beanstalk that sprouts overnight, and steal from a GIANT, he decides ...

---

Albie Newton

Meet Albie Newton: child genius. He's a whiz at inventing things. But is he inventive enough to figure out how to make friends? When precocious inventor Albie Newton enters a new preschool, he concocts the perfect plan for making friends. Unfor...

---

How to Code a Sandcastle

From the computer science nonprofit Girls Who Code comes this lively and funny story introducing kids to computer coding concepts. All summer, Pearl has been trying to build the perfect sandcastle, but out-of-control Frisbees and mischievous puppi...

---

Lost in the Library

Lost in the Library: A Story of Patience & Fortitude is the first picture book about Patience and Fortitude, the two lion statues that faithfully guard the New York Public Library. When Patience goes missing, Fortitude realizes the secret to Patience...

---

Mission Defrostable

Our favorite breakfast food friends are back and all bready for their next adventure! Can they save the fridge before all the food is iced? It's mission ... defrostable. "And now with the two of you out of the fold, I've got my revenge and ...

---

---

It's Not Hansel and Gretel

Hansel and Gretel will not listen to their storyteller. For one thing, who leaves a trail of bread crumbs lying around, when there are people starving? Not Hansel, that's for sure! And that sweet old lady who lives in a house made of cookies and ca...

---

How to Code a Rollercoaster

Pearl and Pascal take their coding adventures to the amusement park in this follow-up picture book from our Girls Who Code program! Pearl and her trusty rust-proof robot, Pascal, are enjoying a day out at the amusement park. Spinning teacups, ice ...

---

A Night at the Bookstore

Once upon a time, Barnsie lived in a bookstore, where he loved to read in his comfy chair. But one evening, everything changed. Come along on a fantastic adventure of fun and friendship. Barnsie loves living alone in the bookstore and quietly readin...

---

Short & Sweet

Lady Pancake and Sir French Toast are back with a twist: they've been transformed into small children. Now it's a race against the clock to turn our favorite duo into grown-ups again!   Lady Pancake is aching; Sir French Toast's looking pale. Could...

---

Where Is Our Library?

Curious Patience and steadfast Fortitude wait every morning to greet visitors of the New York Public Library―and slip away every night to read in the Children's Center.But one day, Patience and Fortitude find the Children's Center empty! The two li...

---

It's Not Little Red Riding Hood

Little Red likes to play by the rules. So when the narrator comes along and asks her to follow the story set out in her fairy tale, she grabs the basket for Grandma and goes. After all, she loves her grandma. But unfortunately, none of the other char...

---

My Pet Feet

When the letter R suddenly vanishes, a whole town goes upside-down in this side-splitting picture book of alphabet chaos that's Can I Be Your Dog? meets P Is for Pterodactyl.A little girl wakes up one day to find that R, a vital piece of the alphab...

---

The Great Caper Caper

In the fifth adventure of the Lady Pancake and Sir French Toast series, our delectable rhyming friends find their home covered in darkness and embark on a Las Veggies heist—perfect for fans of The Food Group series.   When Lady P...

---
Frequently Asked Questions (FAQ)
Josh Funk has published 17 books.
Josh Funk does not have a new book coming out soon. The latest book, The Great Caper Caper, was published in November 2022.
The first book by Josh Funk, Lady Pancake and Sir French Toast, was published in September 2015.
Yes. Josh Funk has 3 series.