Description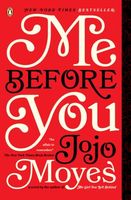 They had nothing in common until 1ove gave them everything to lose

Louisa Clark is an ordinary girl living an exceedingly ordinary life -- steady boyfriend, close family -- who has never been farther afield than their tiny village. She takes a badly needed job working for ex-Master of the Universe, Will Traynor, who is wheelchair bound after a motorcycle accident. Will has always lived a huge life -- big deals, extreme sports, worldwide travel -- and now he's pretty sure he cannot live the way he is.

Will is acerbic, moody, bossy -- but Lou refuses to treat him with kid gloves, and soon his happiness means more to her than she expected. When she learns that Will has shocking plans of his own, she sets out to show him that life is still worth living.

A Love Story for this generation, Me Before You is an unlikely story about two people who couldn't have less in common -- a heartbreakingly romantic novel that asks, What do you do when making the person you love happy means breaking your own heart?
Full Synopsis
About the Book
Published:

Jan-2012

(Hardcover)

Aug-2013

(Paperback)

Formats:

Print / eBook / Audio

Pages:

12

Age Level:

18 & up

Purchase:
What Readers Are Saying
What do you think? Write your own comment on this book!
Write a Comment
"This book, this terrible beautiful love story, left me wounded and slightly elated. I finished it at 2 am and was so wrapped in it's nightmarish drama I cried till morning. The pain of the loss, of dreams never to come, of the Hollywood ending I hoped for. No, this story is gritty, heartbreakingly realistic and truthful.
My heart bleed for Will, Lou and his parents. Modern medicine created this level of life, where perhaps it's not worth the pain. We now have the ability to keep someone alive, on the very edge of existence for years. What of the person trapped in the body ? Do they have a choice ? Must they live through unending pain and humilities ? Is that right ? I really don't know and that's what hurt me the most. What choice would I force upon my family if I was faced with this nightmare ? I don't think there are two people who are going to come away with the same experience after reading this book. Life's experiences will tie each of us to different aspects of this tale. I learned something, I felt humbled, and I gained and new appreciation for others.
I don't know how to rate this one. 5 stars is for a book I want to re-read, and I don't want to re-read this. No, once will stick forever. I didn't enjoy reading it, it hurt. It was very good at bringing forth emotions that I like to keep contained. So 4 stars it is