Description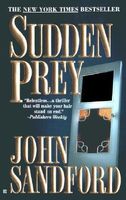 It begins with a death and ends with one. For months, Lucas Davenport's men have been tracking a vicious woman bank robber named Candy, and when they finally catch up with her, she does not go quietly. In the ensuing shoot-out, she dies -- and Davenport's nightmare starts. For her associates are even worse than she was, particularly her husband, a deeply violent man who swears an appropriate revenge: first he will find the names of those responsible; then he will kill those nearest and dearest to them, just the way they did Candy.

So it begins. The husband of one officer is shot and killed. The wife of another is ambushed at work. When a third attack is thwarted, the pattern becomes clear to Davenport, and with an urgency born of rage and terror, he presses the hunt, desperately trying to track down the killers before they can strike again, before they can reach out for Davenport's own loved ones. But in this effort, he may already be too late.


Alternate Blurb:

LUCAS DAVENPORT KNOWS WHY PEOPLE KILL.

Some do it for thrills. Some do it for profit. Some do it because they must. But when his team guns down two bank robbers in the middle of a heist, Davenport falls prey to the purest, simplest criminal motivation: revenge.
Full Synopsis
About the Book
Published:

May-1996

(Hardcover)

May-1997

(Paperback)

Formats:

Print / eBook / Audio

Pages:

390

Age Level:

18 & up

Purchase: