Description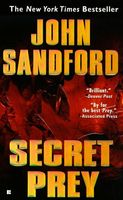 IT BEGINS WITH A SINGLE GUNSHOT.

A wealthy banker is dead, shot once in the chest during a hunting trip. There are many reasons for him to be killed, and many people who would do the deed. But who did? Lucas Davenport has an idea. But this "routine" murder investigation is about to turn into something different. A cat-and-mouse game with a killer who does not hesitate to take the fight to Lucas himself. And those he loves...
About the Book
Published:

May-1998

(Hardcover)

Jun-1999

(Paperback)

Formats:

Print / eBook / Audio

Pages:

400

Age Level:

18 & up

Purchase:
What Readers Are Saying
What do you think? Write your own comment on this book!
Write a Comment

Just when the reader begins thinking that this novel might be a predictable story, the author provides his magic touch and the story soars to a most dramatic and memorable thriller.

Bank president Daniel Kresge is murdered while hunting. He had been orchestrating a bank merger which would have made him wealthy but cost many employees their jobs. He was also undergoing a costly divorce. The suspects for his murder, were many.

The two employees who are in line to take over the bank begin maneuvering for control while placing another man in charge during the transition.

Deputy Police Chief Lucas Davenport is investigating. Just as he and his team begin closing in on the suspected killer, another bank executive is murdered and the police must go back to the chalk board. The investigation intensifies as Davenport makes certain moves but then the killer counters.

Sandford does a masterful job with the novel. He keeps the reader guessing as to who the killer might be and then when the killer has been identified, the reader is again in suspense to see how this person will be caught and will it be before they kill again.

The characters are excellent and well described. The author portrays the Minnesota countryside nicely so that the reader can visualize what the setting must look like.

Recommended.