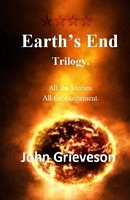 Newest Release
Bibliography:

13 Books - 1 Series

First Book:

May 2012

Latest Book:

November 2017
Full Series List in Order
1 - The Earth's End (Apr-2015)
2 - Earth Two Under Threat (Aug-2015)
3 - Fractured Universe (Feb-2016)
Book List in Order:
13

titles
The Continuing Adventures of Spirit

These are two adventures that Spirit has had since The Accident'. The first is an exiting walk by the river with strange meetings. and the second advenure is about why all the grass has disappeared and Spirits reasoning. These are vol 2 and 3 out of ...

---

The Continuing Adventures of Spirit 2

This book contains the 4th and the 5th stories of the Adventures of Spirit. These are about a Christmas event and a night walk through Spirits eyes. A unique insite to what Spirit thinks, in a amusing way....

---

The Accident

If you are thinking of owning a dog you must read this as no matter how you try they have a mind of their own. This is the 1st story in the life of a bouncy little minature poodle, who is not destined to be a show dog like her parents. This is her fi...

---

Poodle stories

/ General Fiction

These stories actually happened and have been written through the interpretation of thoughts that Spirit the miniature Poodle had. From the moment she was brought to our house, through to her discoveries of life and her interaction with others and th...

---

The Earth's End

The Human race has almost succeeded in destroying our planet Earth. Time is not on our side the elements are becoming more unstable day by day. The president of the world has devised a plan which has a small chance of saving the human race. This invo...

---

Earth Two Under Threat

After travelling to a duplicate Earth and fighting off a incursion by the 3rd Reich, the remaining members of the original crew of Hope journeyed to their new home looking for a way to alter their past. They did not expect what was to come and were n...

---

Fractured Universe

/ Science Fiction

Captain Sabina and her team after winning two major victories are having a well earned rest in their new found home in Australia. couples are getting to know each other but peace does not last long as the team are forced to split up. While one team v...

---

Infinite Finality. Fractured Universe

After defeating the Messanians and finding a peaceful place to settle in a remote part of Australia. They thought that they had found a peaceful haven for some much needed rest and recreation. This was not to be as another enemy appeared, some of the...

---

Murders in Time

A family destroyed by the effects of war, a son suffers the consequences and circumstances force him to commit murder. Over the years things get progressively worse and he has to cope with a serious medical problem. Even this life changing disease do...

---

---

Murder with Benefits

After a hard year of training Karen Lewis is now a qualified Police Officer and once again has to assist her colleague and partner Ruby Richards who has been promoted to a Detective Sergeant.They are both volunteered to investigate a series of murder...

---

Murder by Design

The police officers from Hull finally get a break of routine and are given permission to take a well earned holiday. So they prepare themselves for rest and relaxation in the North Yorkshire Dales after solving two difficult cold cases. Now is the ti...

---

---

---
Frequently Asked Questions (FAQ)
John Grieveson has published 13 books.
John Grieveson does not have a new book coming out soon. The latest book, Earth's End Trilogy, was published in November 2017.
The first book by John Grieveson, The Continuing Adventures of Spirit, was published in May 2012.
Yes. John Grieveson has 1 series.