Description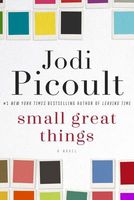 With richly layered characters and a gripping moral dilemma that will lead readers to question everything they know about privilege, power, and race, Small Great Things is the stunning new page-turner from Jodi Picoult.

Ruth Jefferson is a labor and delivery nurse at a Connecticut hospital with more than twenty years' experience. During her shift, Ruth begins a routine checkup on a newborn, only to be told a few minutes later that she's been reassigned to another patient. The parents are white supremacists and don't want Ruth, who is African American, to touch their child. The hospital complies with their request, but the next day, the baby goes into cardiac distress while Ruth is alone in the nursery. Does she obey orders or does she intervene?

Ruth hesitates before performing CPR and, as a result, is charged with a serious crime. Kennedy McQuarrie, a white public defender, takes her case but gives unexpected advice: Kennedy insists that mentioning race in the courtroom is not a winning strategy. Conflicted by Kennedy's counsel, Ruth tries to keep life as normal as possible for her family -- especially her teenage son -- as the case becomes a media sensation. As the trial moves forward, Ruth and Kennedy must gain each other's trust, and come to see that what they've been taught their whole lives about others -- and themselves -- might be wrong.

With incredible empathy, intelligence, and candor, Jodi Picoult tackles race, privilege, prejudice, justice, and compassion -- and doesn't offer easy answers. Small Great Things is a remarkable achievement from a writer at the top of her game.
Full Synopsis
About the Book
Published:

Oct-2016

(Hardcover)

Jun-2018

(Paperback)

Formats:

Print / eBook / Audio

Pages:

256

Purchase:
What Readers Are Saying
What do you think? Write your own comment on this book!
Write a Comment

"What if the puzzle of the world was a shape you didn't fit into? And the only way to survive was to mutilate yourself, carve away your corners, sand yourself down, modify yourself to fit?"

Small Great Things is the 22nd adult novel by American author, Jodi Picoult. Ruth Jeffries is an experienced neonatal nurse, working in the Labour and Delivery suite at Mercy-West Haven Hospital in Connecticut. Having performed her usual checks on baby Davis Bauer, she is shocked to be told she may not have any further contact with him. Turk Bauer is a White Supremacist and determined that no black nurse is going to touch his child.

Notwithstanding the directive, some time later Ruth finds herself faced with a dilemma when Davis stops breathing. Despite emergency intervention, Davis dies and Turk is convinced that Ruth is responsible. When Ruth is arrested, it is Public Defender Kennedy McQuarrie who represents her for the arraignment, and helps her seventeen-year-old son organise bail. Seeing the opportunity to gain experience, Kennedy asks to be assigned to Ruth's case, a case that would normally go to someone more experienced.

Picoult uses three narrators: Ruth, Turk and Kennedy give the perspective of the black defendant, the White Supremacist and the privileged white lawyer who believes herself impartial to race. Characters that begin as somewhat stereotypical soon develop a depth that may surprise. Likewise, the plot that seems to be headed to a fairly predictable conclusion develops a few interesting twists. Drama and tension are relieved by the delightfully funny banter between Kennedy and her family.

This is a story that is packed with emotion: sorrow and grief, love and hate, guilt and shame, all guarantee some lump-in-the throat moments. Words of wisdom and insightful observations are a feature: "It is amazing how you can look in a mirror your whole life and think you are seeing yourself clearly. And then one day, you peel off a filmy gray layer of hypocrisy, and you realize that you've never truly seen yourself at all"

Picoult also gives the reader some marvellous descriptive prose: "Turk Bauer makes me think of a power line that's snapped during a storm, and lies across the road just waiting for something to brush against it so it can shoot sparks" and "We passed a few women in the kitchen, who were bouncing from fridge to cabinets and back like popcorn kernels on a hot griddle, who were exploding one at a time with commands: Get the plates! Don't forget the ice cream!" are examples.

Of course, only a person of colour may judge if Picoult's portrayal of a black woman is accurate, and, while many will criticise this white author, with her privileged upbringing and education, for having the audacity to present a black person's perspective, her extensive research, as mentioned in the author's note, is apparent in every paragraph.

Racism is a big topic to tackle, so if an author of Picoult's talent and reputation can make even a few more people truly aware of it, and cause them to honestly examine their own attitude towards it, then this book is worthy of praise. Moving and thought-provoking, Picoult's latest offering is another brilliant read.