Description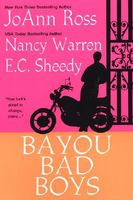 Louisiana men? Honey, talk about the Big Easy...

Bad boy bayou movie star Gabe Broussard has come back to his Louisiana hometown for some peace, but things only heat up the minute he reunites with Emma Quinlan. With her lush body and hearty appetite, she's no Hollywood matchstick, and oh cher, does he like that. Emma just has to stop thinking about her former Cajun crush, so she makes a list of all the things she wishes he would do to her and buries it in a graveyard at night. Except it's the wrong list--Gabe finds the right one, and he intends to fulfill every blissful one of them...

There's a bad moon rising on the bayou...and the Bad Boys have never been better...
Full Synopsis