Description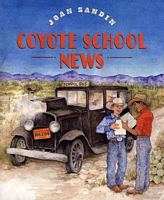 A blending of rich Mexican and American cultural traditions
""My name is Ramon Ernesto Ramirez, but everybody calls me Monchi. I live on a ranch that my great-grandfather built a long time ago when this land was still part of Mexico. That was before the United States bought it in 1854 and moved the line.""
Every day, Monchi and his five brothers and sisters take a long, bumpy bus ride to Coyote School, where there are twelve students who each write for Coyote School News. Through their articles and drawings we learn all about their exciting 1938 school year-from the Christmas pinata, the new baseball team, and the Perfect Attendance Competition to La Fiesta de los Vaqueros, the biggest annual ranch celebration.
This eventful story, illustrated in full color, is based on an actual collection of newspapers written by students of Arizona ranch-country schools between 1932 and 1943.

Full Synopsis