Description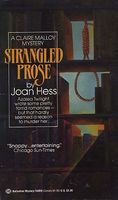 I'm Claire Malloy. I run that cute little bookstore in the abandoned railroad depot--the Book Depot. I love Mildred--a.k.a. Azalea Twilight--so I agreed to let her use my store for the autograph party for her latest smutty romance, Professor of Passion, even though I usually don't even stock her works. But as I say, Mildred was a friend...

At the party, Maggie, our small college town's meanest feminist, burst in and read from the book, at which time I learned Mildred had used the circumstances of my late husband's death in the midst of her smutty trash. Mildred left in tears and shortly thereafter I marched after her thinking I could just kill her for her insensitive use of such a private matter.

I didn't make it to her house, though. I returned to my party-filled little store. But someone else made it because Mildred ended up dead. And since she'd offended, every faculty member at Faber College, there was no end of suspects..
Full Synopsis
About the Book
Published:

Mar-1986

(Hardcover)

Jan-1987

(Paperback)

Formats:

Print / eBook

Pages:

192

Purchase: