Description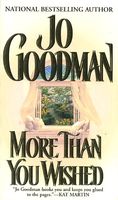 IF THIS WAS LOVE...

Reclaiming her family's Carolina rice plantation from her ruthless stepfather was Bria Hamilton's only wish--and she was taking a chance by hiring Northerner Lucas Kincaid to help her. With her own painful scars still fresh ten years after the War Between the States, Bria couldn't trust any man--especially one as dangerously attractive as Luke--to understand that the legacy of Concord meant everything to her. More than a warm smile or a tempting promise, and more than the sudden, yearning hope that Luke might offer the kind of happiness she had never dared to wish for...

IT WAS MORE THAN SHE WISHED FOR

Bound to his own past as surely as Bria was bound to hers, Luke had only one reason for working at Concord--vengeance. He couldn't afford to let his response to Bria distract him from his only chance to punish the man who had caused his family so much harm--but when Bria proposed a marriage of convenience, he couldn't deny her. Just as he couldn't deny the laughter that sweetened their moments together, the passion he longed to teach her, and the love he never meant to feel...
Full Synopsis
About the Book
Published:

Apr-2001

Formats:

Print / eBook

Pages:

415

Purchase: