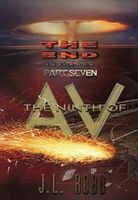 Newest Release
Bibliography:

8 Books - 1 Series

First Book:

April 2011

Latest Book:

December 2018

Rating:
Full Series List in Order
1 - The End The Book (Apr-2011)
2 - You Have Been Warned (May-2012)
3 - Visions and Dreams (Oct-2013)
4 - The Disappearance (Oct-2014)
5 - The Two Witnesses (Feb-2016)
6 - The Third Woe (May-2017)
Book List in Order:
8

titles
The End The Book

Not a cloud in the blue Atlanta sky, Jeffrey Ross made his morning visit to the Dunwoody Starbucks, expecting this day to be like any other. It wouldn't. Samarra Russell left her meeting at Emory Medical Center after receiving the strange call and wo...

---

You Have Been Warned

Glancing to the left, Jeff was surprised to see the small, white church sitting a hundred feet off Highway 85 in the middle of a field of bright, yellow daffodils. He had never seen so many daffodils in his life. There was nothing around except fo...

---

Visions and Dreams

THE END The Book: Part Three is the 3rd book to be released in the 7-part series that follows a group of senior citizen friends and ex-military as Islamists take their war to the Bible-Belt, and Atlanta suffers the first nuclear strike on U.S. soil. ...

---

The Disappearance

/ Thriller

This fictional thriller/love story series asks the difficult question: What would you do if you turned on the morning news and found that the world really was going to end this time? The world's top scientists confirm the coming disaster.Jeffrey Ro...

---

The Two Witnesses

Jeffrey Ross wouldn't know a miracle if it hit him in the face. Man's belief in a God was mythical, at least that was the way he had always felt. And he knew for a fact there would be no End Times events like his aunt and his mother always pumped...

---

The Third Woe

THE END: THE BOOK Series is a fictional account of the predicted apocalypse as outlined in the prophetic books of the Bible. Several readers have asked me, "Is this book true?" It is true that the Biblical end will happen, but I have written t...

---

The Ninth of AV

The Ninth of AV is the seventh and final book in the THE END THE BOOK SERIES. As Earth's population dwindles from 8 billion to 3 billion, thanks to war, plague, famine, drought, asteroid strikes, the remaining begin to wonder if the Bible's depict...

---

---
Frequently Asked Questions (FAQ)
J.L. Robb has published 8 books.
J.L. Robb does not have a new book coming out soon. The latest book, The End, was published in December 2018.
The first book by J.L. Robb, The End The Book, was published in April 2011.
Yes. J.L. Robb has 1 series.