Description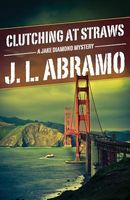 Lefty Wright breaks into Judge Chancellor's empty house easy as pie. He has no clue about why he is being paid such a handsome sum for doing it. But the job description hadn't mentioned the corpse of a prominent criminal court judge lying halfway under the bed.

Charged with murder, Lefty's SOS zooms over the phone wires and reaches one Jake Diamond, Private Investigator, whom readers met in Abramo's Private Eye Contest winner, Catching Water in a Net. It's easy to understand why the unprepossessing guy with grease spots on his only two neckties. Jake is a love. His unexpected skills as an investigator and his assortment of multi-talented friends make him one of the luckiest private investigators West of the Rockies, and maybe East too. He's got Joey Russo - an influential mob boss to most people but a substitute father-figure (with a soupcon of Jewish mother) to Jake. His secretary Darlene runs the office, and does everything but tie his shoes. And no one else has as eager a gofer as Vinnie Strings, so-called because his real name, Stradivarius, is too hard for some to say. And then the reconciliation of Jake and his ex-wife Sally is coming along very nicely indeed.

Jake takes the case, but it soon leads down a series of side paths that sprawl out from Lefty's prison cell like the tentatcles of an octopus. What's the real story of the kidnap of the prominent lawyer's feckless son? What does the policeman named Katt know that he doesn't want to share with the prisoner's lawyer? What happened to the Rolex? Did Freddie Cash know ex-con Vic Vagoda? Why was Judge Chancellor so set against Ryder's candidacy? Where did Vigoda get the two grand? If it all pertained to Lefty's case, Jake would be justified in looking for the answers. But does it?

Although he encounters more than one homicide on the way to untangling these tangled affairs, Jake Diamond in his second appearance manages not only to be a demon detective, but one who is charming, human and delightfully funny as well.
Full Synopsis
About the Book
Published:

Mar-2003

(Hardcover)

Jun-2017

(Paperback)

Formats:

Print / eBook

Pages:

240

Purchase: