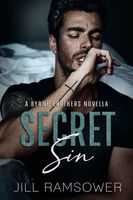 Newest Release
Bibliography:

26 Books - 3 Series

First Book:

June 2018

Latest Book:

July 2023
Full Series List in Order
1 - Shadow Play (Jun-2018)
2 - Twilight Siege (Sep-2018)
3 - Shades of Betrayal (Nov-2018)
4 - Born of Nothing (Feb-2019)
4.5 - Beneath the Crimson Cloak (Aug-2019)
5 - Midnight's End (Jul-2019)
1 - Forever Lies (Oct-2019)
2 - Never Truth (Jan-2020)
3 - Blood Always (Apr-2020)
4 - Impossible Odds (Oct-2020)
4.5 - Guilty Stars (Feb-2021)
5 - Absolute Silence (Mar-2021)
6 - Perfect Enemies (Jul-2021)
1 - Savage Pride (Nov-2021)
2 - Silent Prejudice (Dec-2021)
Multi-Author Series List
Savage Pride
(Nov-2021)
Silent Prejudice
(Dec-2021)
Book List in Order:
26

titles
Shadow Play

They say what doesn't kill you makes you stronger -- if that's the case, I better be badass by the time this is over. After two years at a dead-end job, Rebecca Peterson finally walks away from everything she knows to follow her dreams in Ireland. In...

---

Twilight Siege

**This is a re-edited edition of Twilight Siege. The story is the same as in the first edition, but grammatical issues have been resolved.***
After her carefree world is ripped apart, Rebecca Peterson must accept her new life and the dark powers t...

---

Shades of Betrayal

Ashley

All my childhood fantasies have come true, but reality is never as simple as we would like. I dreamed of living in a wondrous world of the supernatural and having magical powers of my own. Now, I have all of that, but it comes with a ca...

---

Born of Nothing

It was over before it began.
A druid woman and a Fae man -- we were two people from different worlds, only by chance did our paths happen to cross. He was beautiful and damaged and totally captivating. If only I could have continued to buy into th...

---

Midnight's End

Sorceress, enchantress, deceiver, murderer -- I've been called all those and more, some that might make you blush. Lucky for me, I couldn't care less what people think about me. I've had my sights set on one thing for the last thousand years, a...

---

---

Forever Lies

Luca was heartache waiting to happen.On the surface, he appears well-dressed and professional, but behind those impassive black irises, I can sense something dark and ruthless. He's unlike any man I've come across in my life. With my wealthy upbr...

---

Never Truth

SofiaMy life fractured when I was only five years old. I thought I'd never be whole again, but a boy helped piece me back together, one day at a time. Nico Conti became my world -- ten years later, he shattered my heart. He took away the light, so ...

---

Blood Always

It was supposed to be business.Two families, one wedding, zero emotion.My father's mafia outfit had saved my life.I owed them everything.An arranged marriage was hardly a sacrifice when I would have already been long dead had it not been for them.I w...

---

---

Where Loyalties Lie

From the minute I ran, I knew my life was over.EmilyI left my family and everything I knew.Hid myself away where no one would find me.I thought I was safe. Untraceable.I was wrong.Now, there's only one thing I can do if I want to stay alive.Run.Tamir...

---

Impossible Odds

He was a vision of power and privilege.Ruthless arrogance personified.A total stranger and an irresistible challenge.I approached him in a busy casino and felt the sting of his brutal rejection. Then I did something incredibly brazen. Impulsive. Reck...

---

Guilty Stars

/ Contemporary Romance

MichaelI spent years devoting my life to a woman whose heart belonged to another man. She belongs to him now, and in the process, I was shot and wrongfully arrested. It's been a shit couple of months. I never dreamed it would all turn around the seco...

---

Absolute Silence

The Lion's Den club was better than I ever imagined and my worst nightmares, all combined.I thought I was going to explore my darkest fantasies.Gain a better understanding of myself and discover what I'd been missing in life.Instead, I made a deal wi...

---

Perfect Enemies

Kane Easton isn't friend material.He's a master manipulator.No one understands why I give him such a hard time.They can't see past his flawless exterior, but I know he's keeping a secret—something he'll protect with absolute ruthlessness.He th...

---

---

Savage Pride

Savage Pride is the perfect storm of love and hate, and secrets and lies in a sexy, dark reimagining of a classic. -USA Today Bestselling author Natasha KnightZeno De Rossi is arrogant and callous. Nothing like the boy I grew up with.He's poised to t...

---

Silent Prejudice

They say the truth can set you free, but it can't undo the past.A past filled with secrets, lies, and heartache. Zeno De Rossi unleashed a bomb when he told me the truth about our families.He thought an explanation would bring us closer.But how can I...

---

Curse and Craving

This is a must read for fans of Karen Moning's Fever Series and all fantasy lovers... Solid 5 stars for this one! Can't wait for the next. -Lady Reading, GoodreadsMy new job landed me in another country, but it might as well have been an entir...

---

Blood and Breath

CatHe's a savage Fae, and I am Druid—two races at war with one another.I have every reason to hate him. To fear and loath him.But fate brought us together.He is the very last man on earth that I should want. Yet, I find myself needing him in w...

---

---

Venom and Vice

AshleyI've been gifted with a second chance at life, along with magical powers. The catch? I need sex to fuel my powers and a teacher to help me wield them. A wild chemistry sparks between Casek and me.He'd be the perfect teacher if he wasn't the mos...

---

Siege and Seduction

MorganCaptured. Shackled and powerless. I was imprisoned on a remote estate, a wolf stationed as my guard.I'd nearly given up hope of escape until the beast became a man.A glimmer of hope surged to life upon his unexpected transformation.Hope of esca...

---

Dark Desires

/ General Fiction

This limited-time boxed set consists of six romantic classics retold by bestselling and award-winning authors! If you love timeless romance with a steamy modern spin, look no further...SIX FULL-LENGTH BOOKS INCLUDE:Savage Pride by Jill Ramsower (A Pr...

---

Silent Vows

ConnerThey thought she was unsuitable as a bride because she was mute.I thought that made her perfect.Silent. Invisible.I could pretend she didn't even exist.NoemiI've been promised to the Irish.My father will kill me if I refuse, just like he killed...

---

Secret Sin

/ Contemporary Romance

It was supposed to be a one-time thing, but I failed to divulge one little detail.I was a virgin. Bishop Bohanan was my first. Now he's demanding to be my one and only.And he won't take no for an answer.Author's Note: Secret Sin is a 25,000 word Byrn...

---

Corrupted Union

/ Contemporary Romance

KeirThe governor's daughter has gotten herself into a mess. If I protect her, her father will owe me, bigtime.But the best way to keep her safe is to marry her. Claim her as one of our own.The catch? She's got a boyfriend she's not ready to part with...

---

Blood Oath

/ Contemporary Romance

*Full blurb coming soon*Shae's foundations crumble after she's ordered to keep close to the enigmatic Irishman, Devlin McGrath. When she uncovers his secret agenda, their worlds will collide in ways neither imagined possible....

---
Frequently Asked Questions (FAQ)
Jill Ramsower has published 26 books.
The next book by Jill Ramsower, Blood Oath, will be published in July 2023.
The first book by Jill Ramsower, Shadow Play, was published in June 2018.
Yes. Jill Ramsower has 3 series.