Description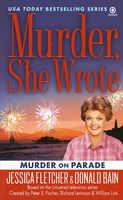 DEAD MAN'S FLOAT
Every Fourth of July the town of Cabot Cove hosts an elaborate celebration, and no one is more enthusiastic than the town's newest resident, corporate mogul Joseph Lennon. He's been waving his wealth around, hoping to influence both business and politics in his desire to give Cabot Cove an unwanted twenty-first-century makeover, including a fireworks extravaganza to rival New York City's.

The festivities begin in spectacular fashion -- and end with Lennon's lifeless body floating in the water outside his office

complex. When the autopsy reveals he didn't die from drowning, Jessica has no choice but to investigate her fellow Cabot Cove citizens to find out whether one of them is capable of murder....
Full Synopsis