Description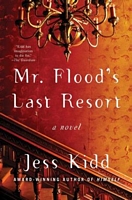 The spellbinding tale of a lonely caregiver and a cranky hoarder with a house full of secrets.

Maud Drennan is a dedicated caregiver whose sunny disposition masks a deep sadness. A tragic childhood event left her haunted, in the company of a cast of prattling saints who pop in and out of her life like tourists. Other than visiting her agoraphobic neighbor, Maud keeps to herself, finding solace in her work and in her humble existence -- until she meets Mr. Flood.

Cathal Flood is a menace by all accounts. The lone occupant of a Gothic mansion crawling with feral cats, he has been waging war against his son's attempts to put him into an old-age home and sent his last caretaker running for the madhouse. But Maud is this impossible man's last chance: if she can help him get the house in order, he just might be able to stay. So the unlikely pair begins to cooperate, bonding over their shared love of Irish folktales and mutual dislike of Mr. Flood's overbearing son.

Still, shadows are growing in the cluttered corners of the mansion, hinting at buried family secrets, and reminding Maud that she doesn't really know this man at all. When the forgotten case of a missing schoolgirl comes to light, she starts poking around, and a full-steam search for answers begins. Packed with eccentric charms, twisted comedy, and a whole lot of heart, MR. FLOOD'S LAST RESORT is a mesmerizing tale that examines the space between sin and sainthood, reminding us that often the most meaningful forgiveness that we can offer is to ourselves.
Full Synopsis
About the Book
Published:

May-2018

(Hardcover)

Mar-2019

(Paperback)

Formats:

Print / eBook / Audio

Pages:

352

Purchase:
What Readers Are Saying
What do you think? Write your own comment on this book!
Write a Comment

"Memory is like a wayward dog. Sometimes it drops the ball and sometimes it brings it, and sometimes it doesn't bring a ball at all; it brings a shoe."

The Hoarder is the second novel by London-born author, Jess Kidd. Care worker Maud Drennan has survived a week with Cathal Flood, and that's no mean feat. He's a hostile old man, argumentative, insulting, uncooperative. He lives is a grand house, Bridlemere, that's filled up with junk including the Great Wall of National Geographics which blocks access to the upper floors. Maud has managed to clear just a few rooms, is tolerated by the cats and tries to feed Cathal a good meal for his dinner.

But then the house or, more likely, the restless ghosts within, begin leaving her artefacts: a defaced family photograph, or two; a newspaper clipping. Maud's agoraphobic, jump-to-conclusions landlady, Renata believes they are clues to a mystery surrounding Cathal Flood and his family: an estranged adult son; a wife deceased in a fall down the stairs; and a daughter whose existence is hotly denied. Oh, and a fifteen-year-old schoolgirl from Dorset, missing some thirty years.

As Maud investigates (somewhat reluctantly), she meets people who are not always what they seem and hears stories that are incomplete, incorrect or conflicting. Despite his build and his attitude, Maud feels she has nothing to fear from Cathal (but should she?); his son Gabriel, she's sure she can't trust. And why is Cathal's previous care worker still on the scene?

Missing sisters, missing fifteen-year-olds: it takes Maud's mind back to her childhood and her own missing sister, so disturbing dreams fill her sleep and unsettling memories plague her thoughts. And as usual, Maud is surrounded by a cast of saints, not quite a Greek chorus (they're too individual for that); some are silent but communicate in looks and gestures, others offer advice and a running commentary on events; some uncannily resemble figures from Maud's past.

What a deliciously intriguing mystery Kidd serves up to her readers: a cast of quirky characters (and that includes Maud's saints and Bridlemere itself), sparkling dialogue and a clever plot that twists and turns to keep the reader guessing. Maud's inner monologue is a delight and there's plenty of humour (some of it quite dark): "The best time to acquire a puppy is when you're in the middle of a missing-person investigation and the man you're sleeping with is planning to dispatch you with a crowbar and wrap you in plastic sheeting" she tells the puppy as they drive along in said man's stolen car.

While the Bridlemere mystery is tidily solved with a rather exciting climax, Maud's personal one is not so neatly put away, leading the reader to wonder if there will be more of Maud Drennan, a prospect that would not be unwelcome. In fact, anything Kidd offers up will be eagerly anticipated. Funny, moving and hugely entertaining.